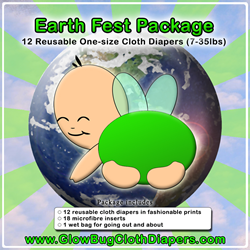 Barrie, ON (PRWEB) April 25, 2014
Glow Bug Cloth Diapers latest collection of prints was released on April 22nd, 2014 to celebrate Earth Day. The collection contains 12 different science and earth themed printed cloth diapers, 18 microfiber inserts and 1 wet bag in a coordinating print. The package of diapers can be found on Glow Bug Cloth Diapers' website here.
Glow Bug recently recruited their fans to help name the prints with a naming contest where the best suggestion for each print won the diaper. The contest was extremely popular with over 20,000 name suggestions for the 12 cloth diaper prints. Some of the prints include a space themed print called Space Cadet, a leaf themed diaper called Seedling and a coral reef themed print called Splish Splash.
Glow Bug Cloth Diapers is based out of Barrie, Ontario and has been in business since early 2011 manufacturing and selling cloth diapers. Glow Bug Cloth Diapers us best known for offering cloth diapers that are high-quality, easy to use, fashionable and affordable. Glow Bug Cloth Diapers fit babies from newborn to potty training so you never have to buy diapers again, making them high-quality yet cheap cloth diapers.