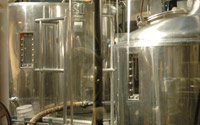 Nansulate helps to reduce heat loss, reduce energy and improve the process itself.
UK (PRWEB UK) 27 April 2014
Nanotech Coatings UK Ltd has introduced award winning Nansulate thermal insulation coating specially designed for the food manufacturing industry. This new insulation material offers long-term cost-saving benefits for manufacturers and it is available to customers in the UK now.
Food manufacturing processes are high on energy consumption, resulting in an often costly process. Traditional food manufacturing processes use energy to heat and cool - through use of boilers, heat exchangers, pipes, furnaces and refrigeration units.
Nansulate helps to reduce heat loss, meaning manufacturers can reduce the energy used in the process as well as improve the process itself and the consistency of the product.
Kevin Buchler, Managing Director at Nanotech Coatings UK Ltd says: "We're really excited to be launching this product here after our colleagues across the pond have successfully worked with many companies globally, using the NSF approved insulation helping food manufacturers to cut down on energy consumption and costs, which also impacted their bottom line and what could eventually be passed on to the customer. There are various case studies available.".
Nansulate offers thermal insulation, corrosion protection and mould resistant properties and can be easily applied to metal, plastic, wood, concrete and many other substrates with a brush, roller or paint sprayer.
Buchler concludes: "We understand the manufacturing processes within a food zone and also the regulatory requirements. Our Nansulate Translucent GP product is NSF approved to provide assurance of the products safety and effectiveness."
The safe insulation coating is made up of a low-odour, non-toxic, water based solution and its NSF International Registration means it is safe to be used around food processing and is environmentally friendly too. The clean, thin film insulation makes Nansulate ideal for food processing and other sensitive manufacturing processes.
The patented Nansulate coatings are already widely used in a range of industries worldwide to reduce energy consumption and they provide an easy way to coat a variety of difficult to insulate food and beverage processing equipment.
Nansulate® thermal barrier coating technology incorporates a safe micro-sized nanotechnology based material with nano-sized internal architecture that has a very low thermal conductivity. Additionally the material is hydrophobic, which provides mould and mildew resistant without the use of toxic mouldicides.
For more information about the products, or to make a purchase enquiry, contact Kevin Buchler direct on: +44 (0) 751 475 6788.
About Nanotech Coatings UK Ltd:
Nansulate® is the Company's patented product line of award winning, specialty coatings containing a nanotechnology based material and which provide the combined performance qualities of energy savings, thermal insulation, corrosion resistance, prevention of CUI, moisture resistance, chemical resistance, and other protective benefits. The coatings are low VOC, water-based, and sustainable.
Nanotech recently formed an alliance with the UK Green Energy Group, having strategic partnerships with such companies as Scottish Power, Dyson energy and Anglian Windows, says Buchler: "We are able to deliver renewable solutions of the highest quality in both the domestic and commercial setting. With a panel of financial lenders including Barclays, Nationwide and Santander ensures going green with Nanotech and the UK Green Energy Group is always 100% fully funded". For more information: http://www.ukgreenenergygroup.com
About Industrial Nanotech Inc.
Industrial Nanotech Inc. is a global nanoscience solutions and research leader. The Company develops and commercializes new and innovative applications for sustainable nanotechnology which are sold worldwide, including Nansulate® thermal insulation and asset protection coatings.
Additional information about the company and its products can be found on their website.