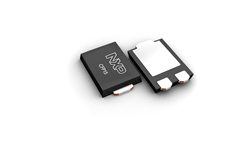 Eindhoven, Netherlands and Hamburg, Germany, April 28, 2014 (PRWEB) April 28, 2014
NXP Semiconductors N.V. (NASDAQ: NXPI), today introduced the first 10 A, 45 V Schottky barrier rectifiers PMEG45U10EPD and PMEG45A10EPD in the new CFP15 (SOT1289) package. This new Clip FlatPower Package (designed for IF max up to 15 A) has very compact dimensions with a body size of 4.3 mm x 5.8 mm and a height of only 0.8 mm, making it thinner than the pin-compatible PowerDI5 and SMPC (TO-277A) rectifier package available on the market today. This small form factor combined with a high electrical performance make PMEG45U10EPD and PMEG45A10EPD the optimal choice for next generation smartphone and tablet power adapters. Applications include SMPS / DC-to-DC converters, polarity protection and high-speed switching.
The new 10 A Schottky rectifiers provide a low forward voltage drop of only 350 mV at 10 A forward current and 85°C junction temperature, thereby reaching increased efficiency levels and high output power ratings needed for fast charging cycles. With high peak current capabilities and a guaranteed breakdown voltage of more than 45 V, the new devices meet the safety demands of up to 15 W chargers with 5 V output voltage. PMEG45A10EPD is optimized for low VF and low IR and boosts a capacitance of only 900pF (typ.) at 1 V. PMEG45U10EPD is optimized for lowest VF and has a capacitance rating of 1200pF (typ.) at 1 V.
The CFP15 package design has a solid clip and exposed heat sink to help reduce the package's thermal resistance and optimise the transfer of heat into the ambient environment; allowing for smaller and thinner charger designs. The front sides of the package leads are also tin-plated and 100% solderable, enabling optical solder inspection.
"With our new CFP15, NXP has developed a package that further enriches the market for compact and high power Schottky rectifiers by offering an even thinner alternative." said Wolfgang Bindke, product manager diodes, NXP Semiconductors. "Over the course of 2014 and 2015 we will extend the portfolio with further Schottky rectifiers up to 60 V and 15 A . Manufacturers of power adapters as well as automotive suppliers are keen to see smaller and more efficient modules in the coming years."
Availability
The new 45 V, 10 A Schottky rectifiers PMEG45U10EPD and PMEG45A10EPD in CFP15 are available immediately in high-volume production.
Links

About NXP Semiconductors
NXP Semiconductors N.V. (NASDAQ: NXPI) creates solutions that enable secure connections for a smarter world. Building on its expertise in High Performance Mixed Signal electronics, NXP is driving innovation in the automotive, identification and mobile industries, and in application areas including wireless infrastructure, lighting, healthcare, industrial, consumer tech and computing. NXP has operations in more than 25 countries, and posted revenue of $4.82 billion in 2013. Find out more at http://www.nxp.com.
ENDS
Forward-looking Statements
This document includes forward-looking statements which include statements regarding NXP's business strategy, financial condition, results of operations and market data, as well as other statements that are not historical facts. By their nature, forward-looking statements are subject to numerous factors, risks and uncertainties that could cause actual outcomes and results to be materially different from those projected. Readers are cautioned not to place undue reliance on these forward-looking statements. Except for any ongoing obligation to disclose material information as required by the United States federal securities laws, NXP does not have any intention or obligation to publicly update or revise any forward-looking statements after NXP distributes this document, whether to reflect any future events or circumstances or otherwise. For a discussion of potential risks and uncertainties, please refer to the risk factors listed in NXP's SEC filings. Copies of NXP's SEC filings are available from the SEC website, http://www.sec.gov.