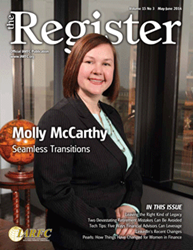 [On recent life transition of giving birth to first child]...By having a family of my own, I now realize how hard it is to say no to your children... Molly McCarthy, RFC
Middletown, OH (PRWEB) April 30, 2014
Molly indicates: "Gaining respect and acceptance from clients comes from constant support and encouragement from Lloyd Lowe, the owner and founder of LD Lowe Wealth Advisory. By having Lloyd personally introduce me to our clients, providing them details on my education and training and supporting my decisions, our clients have rapidly accepted me and shown me respect."
Helping her client's through the life changes that impact their financial future, Molly positions herself as a sounding board for them to bounce ideas off of and be there to answer any questions. She finds her degree and background in public relations helps her be a well-rounded advisor and business entrepreneur. Her goal is to make these life transitions as seamless as possible.
After recently giving birth to her first child and starting a new family of her own, she now realizes some of the client's financial hardships and their need to aid a child or family member. "Instead of pointing out the reasons why this isn't a good idea," relates Molly, "I turn my focus to pointing out how we can achieve goals and run through different scenarios for the future.
Molly finds her clients are not prepared for two critical life changes: divorce and providing parenting to grandchildren. She has become an expert in dealing with complicated divorce financial matters and as the first female planner in the office, she is able to offer a female point of view that a divorcee may be searching for after going through this difficult life change.
"When people go through their own personal life change – either good or bad, it gives them a new empathy for a situation," says Ed Morrow, IARFC Chairman and CEO. "Advisors better understand the financial and emotional needs of their clients and thus bring to the table a financial plan that fits the individual(s) on many levels."
To read the entire article on Molly McCarty go to the IARFC website. For information on the Register, contact Wendy Kennedy at wendy(at)iarfc(dot)org.