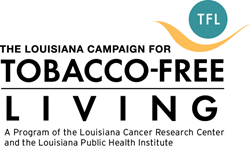 New Orleans, LA (PRWEB) April 25, 2014
Louisiana's youth tobacco usage rates remain higher than the national average, with approximately 38.3 percent of high school and 15.6 percent of middle school students in Louisiana using tobacco, compared with 23.3 percent and 6.7 percent, respectively, on the national level, according to the 2011 National Youth Tobacco Survey (NYTS).
In an effort to bring attention to the tobacco epidemic, youth throughout Louisiana are choosing to Stand UP! to the tobacco industry and its youth-targeted direct marketing efforts. Thirteen organizations received grants from The Louisiana Campaign for Tobacco-Free Living (TFL) to engage youth in tobacco control and prevention through the Defy the Lies campaign. Teams participated in the point-of-purchase (also known as point-of-sale) project, which focused on tobacco products and advertising in stores where youth are likely to visit on a regular basis, such as gas stations and convenience stores.
"Educating Louisiana youth about the dangers of tobacco, especially during the transition from middle to high school, is crucial," said Tonia Moore, associate director for TFL. "We see a big increase in tobacco use during these years, and that's why it is so important that we get local communities involved in standing up to the aggressive marketing tactics that are aimed at our young people. Defy the Lies is a youth movement that takes down the influence of the tobacco industry, promotes tobacco-free lifestyles, and brings awareness to media and elected officials about tobacco products that are being marketed and sold to our youth."
In the next three months, a series of Stand UP!-themed town hall-style meetings will take place where local youth will present the results of their point-of-sale assessments and discuss what their community can do to address the issue of tobacco marketing to youth. These meetings will be announced in each region as they happen and media and community members are invited and encouraged to attend.
The first two meetings are scheduled as follows:

Northshore Region – Monday, April 28, 6 p.m., Washington Parish Court House, 908 Washington St., Franklinton, LA 70438
Thibodaux-Houma Region – Thursday, May 8, 5 p.m., Terrebonne Parish Library, 151 Library Drive, Houma, LA 70360
Each Defy team, consisting of an adult coordinator and eight youth members, was trained to recognize tobacco products and advertisements, and to identify tobacco industry tactics designed to get the attention of youth. TFL staff randomly selected 60 stores in each grantee's region to conduct research. Youth were trained in both data collection and communication and visited approximately 10 stores per month from October 2013 to March 2014. Overall, Defy youth planned to assess more than 700 stores throughout the state, although not all stores were available.
"In the 2011 NYTS, 59 percent of Louisiana students reported having smoked one or more cigarettes in their lives," said Dr. Torrie Harris, director of TFL. "This factor alone makes tobacco use a significant public health issue. The Defy point-of-purchase project has been a great way to engage local youth who are interested in changing their communities for the better."
About the Louisiana Campaign for Tobacco-Free Living
The Louisiana Campaign for Tobacco-Free Living (TFL) and the Louisiana Department of Health and Hospitals Tobacco Control Program (LTCP) coordinate their efforts in tobacco prevention and control by providing statewide coordination of existing tobacco control initiatives, funding innovative community programs for tobacco control, offering services for people who are ready to quit and developing statewide media campaigns to help reduce the excessive burden of tobacco use on the state's resources and improve the overall health and quality of life in Louisiana. For more information visit http://www.tobaccofreeliving.org. To find out more about the dangers of secondhand smoke and show your support for a 100-percent smoke-free Louisiana, visit http://www.healthierairforall.org.
About the Louisiana Cancer Research Consortium (LCRC)
The Louisiana Cancer Research Consortium of New Orleans provides a structure in which Tulane University Health Sciences Center and Louisiana State University Health Sciences Center - the state's two leading medical research institutions - will work together and coordinate cancer research development in preparation for recognition as a National Cancer Institute (NCI) - Designated Cancer Center. The consortium is funded through five cents of the tobacco excise tax, three cents to fund infrastructure and cancer research program development for the new Consortium and two cents for tobacco control and prevention programs. Conservative estimates indicate that approximately $10 million per year will be generated from this revenue source. For more information, visit http://www.lcrc.info.
About the Louisiana Public Health Institute (LPHI)
Founded in 1997, The Louisiana Public Health Institute's mission is to promote and improve the health and quality of life in Louisiana through public-private partnering at the community, parish and state levels. By fostering collaborative endeavors in the areas of health information, public policy, applied research, and community capacity enhancement, LPHI works to develop community-oriented solutions that improve the health of the Louisiana population. For more information, visit http://www.lphi.org.
####