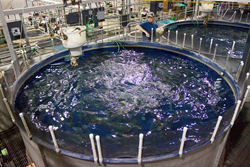 St. Andrews, NB (PRWEB) April 25, 2014
SUBJECT: The Atlantic Salmon Federation (ASF) and The Conservation Fund Freshwater Institute (TCFFI), are jointly hosting an international land-based, closed-containment aquaculture workshop on April 29-30 in Chamcook, New Brunswick.

Presenters will include Chief Bill Cranmer, from the Namgis First Nation Closed-Containment Project in British Columbia. Chief Cranmer will be speaking about his experience with growing Atlantic salmon on land. His attendance follows a major announcement earlier this week regarding the first harvest of land-raised KUTERRA salmon which is being sold through Safeway stores across British Columbia and Alberta.
There will be updates on several ongoing closed-containment projects including presentations from Steve Summerfelt, from The Conservation Fund Freshwater Institute in West Virginia.
Expertise will be available in all aspects of land based, closed-containment systems including start-up costs and construction, fish health and welfare, organic and sustainability rankings and marketing and promotion.
More than 80 participants are registered from across Canada, the United States and Europe.
Samples of Atlantic salmon grown in a land based, closed-containment facility will be available.
NOTE: All sessions are open to media.
WHEN: Tuesday April 29, 2014-Wednesday April 30, 2014
TIME: Approx. 8 am-5:30 pm, both days. Schedule may be subject to change.
LOCATION: Wild Salmon Nature Centre (formerly known as Atlantic Salmon Interpretive Centre), 24 Chamcook Lake Road #1, Chamcook, New Brunswick. The centre is located on a nearby, but separate, road from the one leading to the International Headquarters for the Atlantic Salmon Federation. It will be clearly marked. Parking is available on site.
INVITEES: All journalists, broadcasters, photographers, food writers, videographers and other media representatives. Please contact Holly Johnson at (506)529-1033 to make arrangements for media passes. Agendas are available in advance. Please email requests to hjohnson(at)asf(dot)ca.
The Atlantic Salmon Federation is dedicated to the conservation, protection and restoration of wild Atlantic salmon and the ecosystems on which their well-being and survival depend. ASF has a network of seven regional councils (New Brunswick, Nova Scotia, Newfoundland and Labrador, Prince Edward Island, Quebec, Maine and Western New England). The regional councils cover the freshwater range of the Atlantic salmon in Canada and the United States.
ASF Contact: Holly Johnson, Manager of Public Information: (506)529-1033(o)
(506)469-1033(c), HJohnson(at)asf(dot)ca
To view this advisory online visit: http://asf.ca/media-advisory-for-land-based-aquaculture-conference-april-.html
Join us on Facebook: https://www.facebook.com/AtlanticSalmonFederation Twitter: https://twitter.com/SalmonNews
For high-resolution photography please visit: the ASF Image Gallery: http://www.asf.ca/images.html