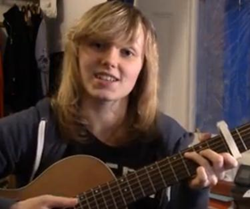 (PRWEB) April 25, 2014
Beth starts off this easy acoustic guitar lesson by explaining the chords that will be used for the song as follows: G, C, D, Bm (B minor), D7 and Em (E minor).
"There are three main chord patterns for this song," says Norman. "The first chord pattern is the verse."
Beth explains the verse chord progression in two parts as follows: pattern one, G, C, D, C and G. Beth explains the second chord progression for the verse as follows: G, C, D, C, D, C, Bm and D7. Next Beth goes over the chord progressions used for the chorus and once again she splits it into two parts. The first part of the chorus chord progression is as follows: C, G, Bm, C and D. The second part of the chorus chord progression is Em, Bm, C, D and D7. Beth says that up to this point that the song is in 4/4 timing and that the strumming pattern is down down up up down up, counted as 1 - 2 - & - 3 - 4 - &, but for the final section of the song, the bridge, the timing changes to ¾ timing and that the strumming is down down up down up down and counted as 1 - & - 2 - & - 3 - &. The chord progression for the bridge is as follows: Em, Bm, C, D, Em, Bm, C, D, G, C, G and D7. Complete chord charts and guitar TAB's are available at SongTabs.com.
Elvis Aaron Presley was an American singer, musician and actor from Tupelo Mississippi. Often referred to as the "King of Rock and Roll", he is considered one of the most significant cultural icons of the 20th century. Over the duration of Presley's career he recorded over 600 songs, had 20 number one albums and 41 number one songs. Elvis also appeared in 33 movies. On August 16th, 1977 Elvis was found unresponsive on the bathroom floor of his home and officially pronounced dead later that day in Baptist Memorial Hospital.
Beth Norman
Started playing the guitar at the age of 15 and started her first band only after 3 months of playing. She put up her first YouTube tutorial video in 2009 and has gained 40,000 subscribers and over 8 million views and counting.
About SongTabs.com
SongTabs.com is a great online resource for learning to easily play your favorite songs on the guitar. With several great instructors and a constant growing catalog of songs, everyone can learn to play there favorite songs.