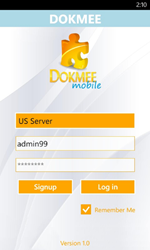 Send documents by email via a secure link
Houston, Texas (PRWEB) April 30, 2014
Office Gemini, a leading international software company specializing in document management and scanning technologies, is pleased to announce that its flagship mobile app Dokmee is now available from the Windows Store. It is already available on PC / Mac, iPhone, iPad and Android.
Expertly designed to ensure best-in-class user experience
Office Gemini (http://www.officegemini.com) has developed a responsive mobile application that delivers exceptional end user experience. This new mobile app available on Windows Phone provides enterprise users with a seamless mobile solution.
Benefits of the Dokmee app:

Workflow: ability to view documents, to search, annotate and approve from your smartphone.
File transfer: send documents by email via a secure link which is valid for 7 days with the possibility to download the document. You can even transfer very large files
from your smartphone using this new feature.

Ability to scan a document on the phone without using a computer.
Support for the creation of a Cloud account for data flow management.
For more information about Office Gemini, please visit http://www.officegemini.com for more information about Dokmee please visit http://www.dokmee.net
About Office Gemini
Office Gemini is an international software manufacturer focused in the document management and document scanning industry. Office Gemini distributes its software products through a vast worldwide network of value-added resellers (VARs). From great software products and implementation assistance to strategic document management and scanning consulting services, Office Gemini is able to provide a wide range of services to End Users and VARs equally. Office Gemini's sales and support specialists are not only experts on internal software products, but are also very knowledgeable about the industry as a whole and can help with complementing software and hardware products. The two flagship products, Dokmee and Diamond Vision, are used by thousands of customers in more than 30 countries and are available in several different languages. For more information about Office Gemini, please visit http://www.officegemini.com for more information on Dokmee visit http://www.dokmee.net solution.
For more information please contact our US press team
Cesar Vega
+1-832-369-3900 Ext: 5302
cvega(at)officegemini(dot)com