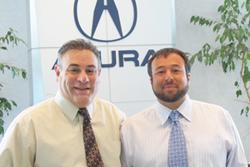 Bridgewater Acura was named the #1 Certified Pre-Owned Acura Dealership in New Jerseyand in the top 10 in the nation for an amazing tenth consecutive year.
Bridgewater, NJ (PRWEB) April 25, 2014
This is the astonishing tenth year in a row that Bridgewater Acura finished as both number one in New Jersey and in the top ten in the nation (this year at number 3) in Certified Pre-Owned Acura sales.
Sports analogies come to mind to understand this kind of feat. The only problem is: No sports team on either the college or professional level has ever won national championships in ten consecutive years. This leaves Bridgewater Acura in a class by themselves and underscores the awesome achievement the dealership has attained.
Bridgewater Acura earned this year's number one standing on the strength of selling 594 Certified Pre-Owned Acuras, 43 more than they sold in 2012. No resting on their laurels for this obviously motivated, hard-working crew.
Bridgewater Acura owner, Bill Vince says he has given up looking for superlatives in congratulating General Manager, Michael Galietta; General Sales Manager, Michael Lasko; Sales Manager, Daniel Lasko; and their sales team on yet another unprecedented performance. Mr. Vince says he is "proud of all of them," and that "their chemistry with each other and their customers is quite exceptional."
General Manager, Michael Galietta says a lot of credit has to go to Acura for engineering and building vehicles that are marvels of technology and innovation, durable and dependable, and a pure joy to drive. Galietta similarly credits Bridgewater Acura's commitment to maintaining a large inventory of mostly off-lease, low-mileage Acuras that qualify for the Certified Pre-Owned Program. This gives their customers the best possible selection from which to find the Certified Pre-Owned Acura they want.
But, says Galietta, "It's the Bridgewater Acura Sales Department that deserves the bulk of the credit for making it all happen." Galietta says that Michael Lasko, Daniel Lasko and their entire sales team bring focus and energy to their jobs every day. They know their inventory, the features of each model and the most attractive financing available. This enables them to find the Certified Pre-Owned Acura that's perfect for each customer's budget and driving needs.
General Sales Manager, Michael Lasko says he believes their success is also a result of "hard work, repeat and referral business and treating people how I'd like to be treated." Lasko said special thanks go to Sales Manager, Daniel Lasko, who is tireless in his search for Certified Pre-Owned Acuras and "finds these cars all over the country."
The Certified Pre-Owned Acuras that Bridgewater Acura sells are as near to perfect as a pre-owned vehicle can be. Each one must be no more than six years old, have been driven less than 80,000 miles and have passed a comprehensive, 150-point inspection by Bridgewater Acura's award-winning technicians. The results of the inspection as well as a vehicle history report are in the glove compartment with the owner's manual for customers to inspect.
The Limited Power Train Warranty on a Certified Pre-Owned Acura is valid for up to 7 years or 100,000 miles from when the vehicle was new. An additional limited warranty extends the vehicle's original warranty by 12 months or 12,000 miles.
Bill Vince's Bridgewater Acura is located 1231 Route 22 West in Bridgewater, New Jersey, a half-mile east of Bridgewater Commons. To learn more about the dealership, call 1-877-70-ACURA or go online at BridgewaterAcura.com.