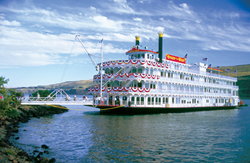 'Increasingly more people are finding this nostalgic form of river cruising appealing. We are proud to have revived this historic pastime.' - Timothy Beebe, Vice President, American Cruise Lines
Guilford, CT (PRWEB) April 28, 2014
American Cruise Lines (http://www.americancruiselines.com) announced today that Queen of the West's 2014 season on the Columbia and Snake Rivers is off to a successful start. Currently on its third sailing of the year, the 120-passenger paddlewheeler has 31 more sailings scheduled through November. Prior to entering service again, Queen of the West received numerous upgrades, which include elegant new dining room furniture, a new bar in the Paddlewheel Lounge, all new furniture in the Lewis & Clark lounge, and a new state-of-the-art air conditioning system. Later on in the year, the six suites onboard will undergo a complete renovation.
"Our goal is to continue to make a great riverboat even greater and to maximize the comfort and amenities available to our passengers," said Timothy Beebe, Vice President of American Cruise Lines. "We are constantly raising our standards as the premier provider of American river cruises and we look forward to continuing to offer the most elegant and enjoyable cruises on the Columbia and Snake Rivers."
Queen of the West features historic accents and modern conveniences. The 63 spacious staterooms onboard feature updated furniture and appointments. The private balconies have received a makeover of their own this year, with all new deck furniture. Sailing between Portland, Oregon, and Clarkston, Washington, guests will learn about the Lewis and Clark expedition while enjoying the Pacific Northwest's breathtaking views and wine country. Guests enjoy complimentary shore tours in each port and a pampered experience onboard with personalized service.
"Now offering more than double the number of cruises since its inaugural season in 2010, Queen of the West has proved to be a great success," added Beebe. "Increasingly more people are finding this nostalgic form of river cruising appealing. We are proud to have revived this historic pastime."
American Cruise Lines is currently building a new Columbia riverboat, which has a planned capacity of 175 passengers and will be similar in design to Queen of the West and the even newer Queen of the Mississippi. The new riverboat will allow American Cruise Lines to offer expanded itineraries on the Columbia and Snake Rivers, adding new cruise options for those looking to experience this unique region.
About American Cruise Lines
American Cruise Lines is the largest U.S. cruise company and operates the newest fleet of riverboats and small cruise ships on more than 35 itineraries around the country. The line is known for working closely with guests and travel agents before, during, and after a cruise to create a highly personalized cruise experience. Long established and deeply experienced in cruise travel, American Cruise Lines has most recently received world-wide recognition as the first line to revive paddlewheel river cruising in America. To learn more about American Cruise Lines, visit http://www.americancruiselines.com or call 800-814-6880. Find us on Facebook at http://www.facebook.com/americancruiselines or follow us on Twitter at http://www.twitter.com/american_cruise.
###