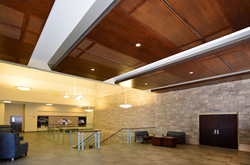 Decorative real wood panels installed on walls and ceilings add warmth and beauty to any interior space.
Agawam MA (PRWEB) April 28, 2014
Sound Seal, Inc. located in Agawam, MA announced that their WoodTrends division were winners once again at the 2014 Intex EXPO Construction Excellence Awards. Sound Seal earned awards in the ceiling and acoustical categories at this year's ceremony at the Mandalay Bay Hotel and Convention Center in Las Vegas, NV. Since 1979, Sound Seal has been providing award-winning innovative solutions to noise control with dedication to customer service and performance.
Sound Seal garnered a Silver Award in the Ceilings Division in the Central Region for use of WoodTrends Custom Acoustical Ceiling Panels in the Gerald T. & Bonnie M. Brouder Science Center at Columbia College in Columbia, MO. WoodTrends Ceiling Panels create a dramatic statement in the 126 seat Bixby Auditorium. Custom stained Quarter Sawn Cherry Veneer was used in the auditorium as well as the Student Interaction Space to create an environment that students and staff can be proud of for many years to come.
Claiming a Bronze Award in the Acoustical Solutions Category in the Central Region, WoodTrends Standard for Walls were incorporated into the design of the L. William Seidman Center at Grand Valley State University in Grand Rapids, MI where the custom stained White Oak Veneer Acoustical Panels help to create an environment conducive to communication and learning.
About Sound Seal
Sound Seal offers a wide product selection to the soundproofing industry and has stayed true to their vision of providing innovative solutions and outstanding customer service. Sound Seal consists of three product lines: The Architectural Division which handles interiors, the Industrial Division which deals with outdoor, HVAC and in-plant noise control, and the Impacta Flooring Division which deals with floor underlayments. For more information visit: http://www.soundseal.com