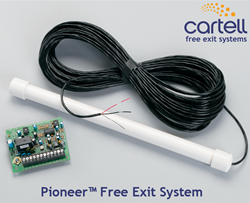 Salunga, PA (PRWEB) May 02, 2014
Cartell was the first to introduce a free exit system to the market based on magnetometer technology. It has made possible a hands-free egress system suitable for any gate operator. Now, homeowners will not have to use a remote or key fob, punch a keypad or let visitors out. With the Pioneer™, leaving a property protected by an automatic gate has never been easier.
The Cartell Pioneer™ free exit system is a two- component system consisting of a sensor probe that is buried beside the driveway and a control board that is conformal coated to be installed in a gate operator. It receives power from the gate operator.
Manufactured by Preferred Technologies Group since the late 1980's, the Pioneer™ was the first free exit system in the market based on magnetometer technology. It continues to be the most reliable with its redundant transient suppression, quality materials, unparalleled workmanship and five-year warranty.
The Pioneer™ has universal voltage AC and DC, making it suitable for any gate operator−solar or powered. With its low stand-by current (under 1 mA), the Pioneer™ is a good choice for solar powered gates. Other features include adjustable sensor probe sensitivity and relay time adjustment.
The sensor probe for the Pioneer™ is buried beside the driveway and covers a twelve-foot-wide drive from the side. It is usually placed one hundred feet from the gate operator toward the house. By the time the vehicle has arrived at the gate, it will be open. As well, a sensor probe can be ordered with varying lengths of cable attached up to three thousand feet, taking it farther from the gate operator.
Cartell, founded in 1975, is a division of Preferred Technologies Group, located in Lancaster County, Pennsylvania. Starting with its groundbreaking use of magnetometer technology for vehicle detection, Cartell has led the industry with innovation, functionality, quality and value. The dependability of Cartell's products far exceeds the industry standard and is backed by a five-year warranty. Every Cartell product is quality-made in the U.S.A. and sold by a national network of fine distributors.
The graphic used can be downloaded at the following: http://cartell.com/driveway/cartell-pioneer.jpg
Media Contact
Jonathan Bohannon, President/CEO
(717) 898-0107
[email protected]
http://www.cartell.com