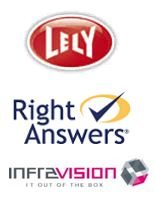 'Using RightAnswers, our field technicians can access information about our products very quickly and easily, enabling them to troubleshoot our customers' systems efficiently and keep them running.'- Arthur Marck, Lely
Edison, New Jersey (PRWEB) April 28, 2014
Lely revolutionized the dairy industry by introducing automated milking machines. Today it maintains its leadership position by focusing on customer service on a wide variety of products and services: from milking robots to feeding systems to grassland and stable maintenance.
Maintaining high milk yield and quality requires consistent milking intervals. Therefore, any delays in milking can impact the dairy farmer's product and profits. To minimize downtime of milking robots due to maintenance or repairs, Lely required a way to centralize its knowledge and provide information to engineers in the field through mobile self-service.
InfraVision, an IT Service Management consultancy company and RightAnswers reseller, introduced RightAnswers to Lely as a platform that would address all their knowledge needs.
"Using RightAnswers, our field technicians can access information about our products very quickly and easily, enabling them to troubleshoot our customers' systems efficiently and keep them running. This is a key function of knowledge at our company," says Arthur Marck, Lely.
Major reasons Lely selected RightAnswers to manage its knowledge:

Mobile self-service, for access to the knowledgebase in locations without internet connectivity
Client Success program that works closely with the customer to tailor a solution to its needs
RightAnswers best practices on knowledge creation and structure
Ability to limit access to information by audience (Lely initially defined 40 different audience types)
Ability to make knowledge available to dealers, partners and consultants, to provide the best advice to their customers
Integration with Lely's existing ITSM system
About the Lely Group
Since 1948, Lely directs all its efforts towards creating a sustainable, profitable and enjoyable future in farming for its customers. Lely is the only company worldwide to supply the agricultural sector with a complete portfolio of products and services ranging from forage harvesting to automated feeding systems, barn cleaners and milking robots. Lely is also working on business concepts to ensure energy-neutral operations in the dairy sector. The Lely Group is active in more than sixty countries and employs some 2,000 people. Visit http://www.lely.com for more information.
About InfraVision
InfraVision has more than 15 years' experience with setting up and professionalizing service-oriented IT, Shared Service and Managed Outsourced organizations by implementing proven practices and methods, supported by software products from leading vendors in the IT Service Management and Knowledge Management industry. InfraVision has a presence in the Netherlands, Belgium, Germany and Great Britain and delivers services across EMEA. For more information, visit http://www.infravision.com.
About RightAnswers
RightAnswers is the #1 provider of cloud-based knowledge management, web and mobile self-service and social knowledge solutions for optimizing customer service and IT support. Our 500+ clients around the globe use RightAnswers seamlessly integrated with their CRM, ITSM or other customer service software, to provide stellar support experiences while saving millions of dollars a year. For more information, visit http://www.rightanswers.com.