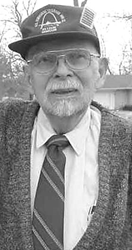 If all this means they won't be forgotten, then it was worth the effort.
Manchester, MO (PRWEB) April 29, 2014
Paul Wittmer grew up in New York City and joined the Navy in 1942 as a volunteer to work on diesel engines of submarines. He is a life member of the United States Submarine Veterans of World War II and United States Submarine Veterans Inc. He began enhancing details on each man and collecting information on these lost submariners in 2007 when the government opened six million World War II personnel records to the public, and his years of dedication and hard work have paid off. Charles Hinman, curator at the USS Bowfin Submarine Museum in Hawaii, co-wrote the books with Wittmer. Leon Stromlund and Phil Cowan, two postwar submariners, helped with the last two years of research. Wittmer's wife, Ellie, supported him throughout the project.
These books are a compilation of basic information on all the known men who died while in, or were attached to, a command of the U.S. Submarine Service, including passengers lost on U.S. Submarines from December 7, 1941 to September 2, 1945. The set is alphabetized according to the men's last names, with each volume taking a section of the alphabet. If known, the information about each man includes the submarine, approximate date of loss, hometown, birth date and place, parents' names, service number, entrance date and location, and awards.
The purpose of the project is summed up in a quote by Fleet Admiral Chester W. Nimitz, USN: "We, who survived World War II and were privileged to rejoin our loved ones at home, salute those gallant officers and men of our submarines who lost their lives in that long struggle. We shall never forget that it was our submarines that held the lines against the enemy while our fleets replaced losses and repaired wounds."
Paul's goal is to get one complete set in a major library in every state in the union so families can use them to research information on their loved ones and ancestors. Those who are interested in purchasing these treasures should contact George Lestina from Mira Digital Publishing at 636-237-0114.