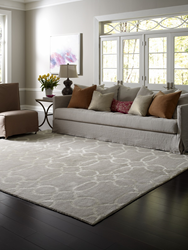 People who suffer from allergies should opt for area rugs over carpeting because carpet harbors allergens.
New York, New York (PRWEB) April 29, 2014
Kalaty Rug Corporation, a family-owned leading supplier of handcrafted specialty area rugs, believes homeowners should select area rugs over wall-to-wall carpeting when selecting their house furnishing this season. The company recently released a statement on the trend of choosing decorative area rugs.
While wall-to-wall carpeting is one of the favorite flooring options for homeowners when selecting flooring, it may not always be the best choice for homeowners, believes Kalaty rug specialist, Mike Kalaty. People who suffer from allergies should opt for area rugs over carpeting because carpet harbors allergens. Even with vacuuming and chemical cleaning, carpeting provides a thriving community for pet dander, hair and dust mites.
Another reason many homeowners seem to stay away from wall-to-wall carpeting is because the furnishing often lacks in color and pattern, often important for interior design. Recent studies, such as a 2012 study by the University of Essex, have connected visual color perception with motivation and creativity. For example, in the 2012 study by the School of Biological Sciences of University of Essex, scientists found placing the color green in an area where people exercise will create positive effect on mood and perceived exertion.
Depending on the mood and Feng shui that a homeowner wants to create in their home, utilizing an area rug can be beneficial because an area rug can be placed in an appropriate position that can introduce an open floor concept or structured separation between spaces. Area rugs are also ideal for homeowners who do not want to commit to the style of wall-to-wall carpeting. Homeowners can change the look every season or when feeling inspired with area rugs.
"Love the carpeting that you installed when you moved to your home?" asked Kalaty. "Remember that it is there to stay. You can't take it with you if you move. Area rugs on the other hand can be packed up! While many home furnishings tend to be a personal taste, area rugs have an overwhelming number of benefits compared to wall-to-wall carpeting."
About Kalaty Rug Corporation:
Kalaty Rug Corporation is a family business that has been setting the gold standard for area rugs for generations. Highly respected for its superior quality handcrafted rugs, the company has built a reputation for its ability to combine color and design to create a broad range of area rugs that portray "Tradition for Today." Kalaty operates showrooms in New York City, Atlanta and High Point. Visit us online to find a local dealer of Kalaty rugs.