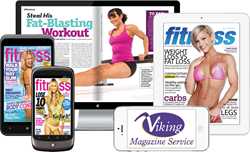 Having the ability to manage your services online, regardless of what it may be, is of vital importance to our customer.
Burnsville, MN (PRWEB) April 29, 2014
Today, Viking Magazine Service ("VMS") announced the launch of their new website (http://www.VikingMagazine.com), which has been developed using the latest version of Joomla, on March 24th 2014. The entire website has been redesigned from top to bottom. The improved layout will make it much simpler for VMS' existing customers to manage their account online while offering new and useful features such as: simplified account management, payment handling options, customer testimonials, print to digital magazine subscription exchange services, employment opportunities and numerous customer service contact options. VMS will continue to encourage direct consumer contact with its highly qualified Customer Service staff. In addition, VMS' CEO and founder, David Moulder, realizes customers value the flexibility, simplicity and 24 hour availability of online services. "In today's world, having the ability to manage your services online, regardless of what it may be, is of vital importance to our customer. This allows them more flexibility to manage and enjoy their Viking Magazine Service than ever before", he explained. Customers looking to reach out to Viking Magazine Services through social media can do so by following them on Twitter (https://twitter.com/vikingmagazine) or liking them on Facebook (https://www.facebook.com/vikingmagazine). With their continuing leaps into the digital millennium, company representatives have stated that more information on their digital offerings, which are available at http://vikingmagazine.com/exchange/digital-magazines, will be coming soon in a future press release.
About Viking Magazine Service: VMS has earned an excellent reputation with both publishers and consumers for reliability, dependability, and integrity for over 20 years. Their mission is to provide consumers and their families with the highest quality magazines at the most affordable price, and to assist magazine publishers in maximizing their reach to these shared target consumers.
To learn more about Viking Magazine Service please contact their customer service line at 800-339-9492 or visit them online at http://www.vikingmagazine.com.