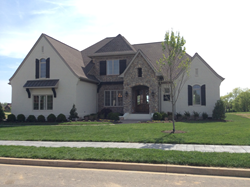 We think this model home is going to help our customers get really excited about all the possibilities for designing their dream homes.
Nashville, TN (PRWEB) April 28, 2014
Families interested in buying a custom home in the Nashville area can now see for themselves what a completed Arthur Rutenberg Homes house looks like. The Hendersonville-based custom homebuilder The Ernst Group, LLC, doing business as Arthur Rutenberg Homes, is opening its first model home in the market, fully furnished and equipped with popular amenities that Arthur Rutenberg Homes offer.
Located at 1184 Potter Lane, Gallatin, Tenn., the house is situated in the exclusive, lakeside Fairvue Plantation community. The neighborhood surrounds the antebellum Fairvue Mansion and other historic homes, and now features a championship golf course, a private country club, and a beautiful setting on the shores of Old Hickory Lake. The community is also just minutes from Downtown Nashville.
The custom home is based on Arthur Rutenberg Homes' "The Asheville" floor plan, and is 4,072 square feet with four bedrooms and three and a half baths. It is fully furnished for viewers to get an idea of how to layout furniture in their custom homes. The home also features:

An open floor plan, one of the hallmarks of Arthur Rutenberg Homes design
An outdoor living area, including a large, covered porch – known as a lanai – and a fire pit, built-in grill, and fireplace
Customers who view the model home also have the opportunity to purchase it, complete with all the included furnishings and amenities.
"We are excited to be opening our first of four Arthur Rutenberg Homes models in the Nashville market," said Steve Ernst, president of Arthur Rutenberg Homes. "It's outfitted with all of the best amenities on the housing market today, and since it's fully furnished, it will help homebuyers visualize the lifestyle that they could expect in their own custom Arthur Rutenberg Home. We think it's going to help our customers get really excited about all the possibilities for designing their dream homes."
The home is open for viewings seven days a week. From Saturday, April 19 to Sunday, May 4, the home will be a part of the part of the Charity Tour of Homes, hosted by the Master Custom Builders Council of Tennessee. Tickets are available on the Charity Tour of Homes website.
About Arthur Rutenberg Homes
Arthur Rutenberg Homes, a respected name in homebuilding since 1953, is one of the largest independently owned and operated homebuilding companies in the nation. With a franchised homebuilder expansion in Tennessee, Arthur Rutenberg Homes builds in prestigious Nashville communities and on owner's individual lots. The Ernst Brothers have 20 years of home building experience in the area and offer plan collections that include more than 80 award-winning home designs ranging from 2,500 to 9,000 square feet. They offer customized plans to suit any lifestyle and optimize views to that special piece of property. For more information, call 615-822-1727 or visit http://www.arthurrutenberghomes.com/nashville.
###