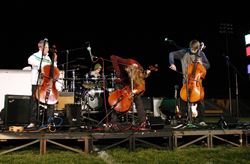 'Break of Reality is one of the bands that inspired Synergy to begin creating and performing music in the first place,' said cellist Jared Snelson, Synergy drummer and percussionist. 'What an honor to now play on the same stage.'
Murray, UT (PRWEB) April 26, 2014
Synergy, the award-winning teenage cello rock band sensation, today announced that will be the opening band at the "Break of Reality" concert Saturday, April 26th in Murray. The invitation to open for the concert is especially an honor for Synergy because "Break of Reality" is one of the key bands that inspired the four high school sophomores -- three cellists and a drummer/percussionist -- to write and perform together as Synergy. Break of Reality has given hundreds of performances across the county at performing arts centers, colleges, rock clubs, and music festivals" and have sold over 40,000 copies of their music worldwide.
"Break of Reality is one of the bands that inspired Synergy to begin creating and performing music in the first place," said cellist Jared Snelson, Synergy drummer and percussionist. "We sent them our new 'Expect Nothing Less' CD in January and they told us they were going to be in SLC in April. We never imagined that we would be invited to perform with them. What an honor!"
"Expect Nothing Less" their new album features the upbeat rock music created by four high school sophomores who write and perform together as Synergy. These hard-rocking musicians, cellists Soren Peterson, Trevin Powell, Jordan Nelson and drummer, Jared Snelson, have been together since 2010 and are frequently requested performers for local events and charity benefit concerts.
"We're just doing what we love," said cellist Soren Peterson. "There's been a huge demand for CD's at all our shows. We've written a lot of original songs and learned a lot of covers so we decided it's time to record an album which has been a huge dream for us since we got together as a band. We're really excited to get our music out there."
Break of Reality is committed to music education, having performed at hundreds of public schools across the country, encouraging music students to explore all types of genres on their instruments." In fact, music education is the reason they are visiting SLC (https://www.kickstarter.com/projects/2019168057/break-of-reality-music-education-tour). So you can see why it is such a great honor to be able to perform with these amazing musicians!
Saturday, April 26th, Break of Reality and Synergy will be performing at the Murray Theater, 4969 S. State Street, SLC. The doors open at 6:30 and you can purchase tickets at this link: http://www.ticketfly.com/purchase/event/486573?utm_medium=bks.
You can hear some Break of Reality songs at this link:
http://www.reverbnation.com/breakofreality.
And you can read more about Break of Reality visiting SLC at this link:
http://saltlakecity.eventful.com/events/break-reality-/E0-001-066360794-2.
About the Synergy Cello Band:
Winners of several local "Battle of the Bands" competitions and a finalist in the 2012 SchoolJam USA National Teen Battle of the Bands, Synergy enjoys performing for local events such as Springville Art City Days, Springville Heritage Days, and The Utah County Fair. Updates and information about the band are also available at "Synergy Cello Band" on Facebook https://www.facebook.com/SynergyCelloBand.