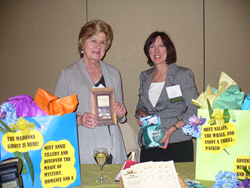 The First Step is to have a passion for your idea.
Massapequa Park, N.Y. (PRWEB) April 29, 2014
Linda Maria Frank, author of teen mystery books, Annie Tillery Mysteries, offers the wisdom she has gained from her self-publishing adventures.
Frank says the journey has been exciting, producing books, but also producing a local access TV show focusing on interviews with authors. By clicking on "self-publishing adventures" above you can get Ten Great Tips from her.
Frank and Karen Bonnet have given the "So You Want to Write a Story" workshop on self-publishing several times, and the reviews are very positive. Participants claim, "I know how to get started now." Folks come in with an idea, such as a pile of gamma's recipes, and leave with an idea for a memoir or a cookbook, and a plan to produce a book.
Frank claims the workshop generates ideas for both participants and presenters.
The First Step is to have a passion for your idea. Frank urges you to read her ten tips and get started.
About Linda Maria Frank: Her life-long career has been in teaching. She taught science, ending her career in the high school as Department Chairperson, teaching biology, chemistry and forensic science. She went on to teach at Hofstra University, forensic science and biotechnology, also supervising science student teachers at Adelphi University. Presently. Frank has written and now markets her Annie Tillery Mysteries, a series for girls of all ages. Find lesson plans for the books on http://www.annietillery.com. She now produces a TV show, The Writer's Dream, on LTV-EH, a local access station in East Hampton, as well as Long Island Cablevision. She interviews guests who are involved with writing, publishing and marketing in all genres. Her goal is to find venues to help market her books to schools and libraries, eventually gaining entrée into film and television, hoping for the big or little screen, not just Kindle and Nook. Also find Annie Tillery Mysteries on digital audio at audible.com.
Her books: The Madonna Ghost, Winner of Rising Star from iUniverse, and The Authors Show Award, Girl with Pencil, Drawing and Secrets in the Fairy Chimneys.