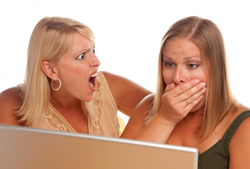 You and your reputation are only as good as what's on Google!
Beverly Hills, California (PRWEB) April 25, 2014
Anonymous online posts and attacks on sites such as the Ripoff Report can destroy a business overnight. In order to actually remove a post from the Ripoff report, one must go through a lengthy legal process. Reputation Redo has introduced the most effective solution as of yet by providing their clients with a nearly instantaneous "fix" so to speak in the battle against frivolous and harmful postings; actual video news reports, custom tailored to distribute positive news about their clients. ReputationRedo.Com is a subsidiary of the Public relations powerhouse Dessler Media. Dessler Media also owns OnCallNews.com, a full service news studio that is used by CNN and the BBC.
On Call News is a fully staffed 24 hour newsroom that can write, produce and distribute video news releases within hours. Once the secret tool of the corporate world, On Call News is now being offered to ReputationRedo.Com clients as part of their complete image control program.
When a ReputationRedo.Com client needs to combat negative postings such as those on the Ripoff Report, they are immediately assigned to a team that consists of journalists and personal image consultants who fly into action with the speed of an elite commando unit. Within hours, a complete blitz of media is being produced and distributed throughout cyberspace via actual media outlets that will out rank the negative postings and bombard the first pages of the search results with positive content that includes actual interviews and stories that appear to be from a number of news sources from around the world.
Whereas with other so called reputation management firms, they simply are producing content that is distributed through blogs and micro-sites . ReputationRedo.Com clients literally have a professional news and public relations team at their beck and call with years of experience.
It was once said that a reputation was like virginity, "Once it's gone you can't get it back", however ReputationRedo.Com has become a game changer in the world of online reputation management.
ReputationRedo.Com can be reached at (310) 498-9303 or by visiting their site at visit http://www.reputationredo.com. On Call News demos can be viewed at http://oncallnews.com/.