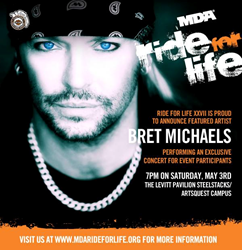 "Bret Michaels is a rock icon whose music has been, and continues to be, a fixture in Harley-Davidson culture," said Ride For Life Event Coordinator Tracy Hausknecht.
Philadelphia (PRWEB) April 25, 2014
Legendary rock star Bret Michaels is set to take center stage on Saturday, May 3 for an exclusive concert for hundreds of motorcycle enthusiasts at the 27th annual Ride for Life event at 7 p.m. at the Levitt Pavilion SteelStacks in Bethlehem, Pa. to benefit the Muscular Dystrophy Association.
Michaels first gained fame as the lead vocalist of popular hair metal band Poison, which has sold over 30 million records worldwide and charted 10 Top 40 singles, including classics like "Nothin' but a Good Time," "Talk Dirty to Me" and chart topper "Every Rose Has Its Thorn."
Michaels has achieved success as a solo artist and has also expanded his show business activities to include acting, producing and directing. He has starred in several popular reality shows, including "Nashville Star," "Rock of Love with Bret Michaels," "Bret Michaels: Life as I Know It," "Custom Built" and was the winner of "Celebrity Apprentice 3" in 2010.
"Bret Michaels is a rock icon whose music has been, and continues to be, a fixture in Harley-Davidson culture," said Ride For life Event Coordinator Tracy Hausknecht. "In addition to his successful music career, Bret is known for taking his celebrity status and talent beyond the stage as a businessman and philanthropist to help a myriad of charitable causes, which makes him a perfect fit for the Ride for Life crowd. We know riders and event participants are going to see a performance they'll never forget."
Admission tickets for the two-day event are available for $40, and children ages 16 and under are free when accompanied by an adult Ride for Life participant. Those interested in only attending the Bret Michaels concert can join the fun by purchasing tickets for $75 at artsquest.org.
Ride for Life is the nation's highest netting Harley-Davidson fundraising event, and has raised more than $18 million since it began in 1988 with the goal of helping save and improve the lives of children and adults affected by muscle disease.
The money raised from the event stays in the six-state area (southern New York, New Jersey, Pennsylvania, Maryland, Delaware and northern Virginia) where it will benefit MDA families affected by muscle disease by providing funds for life-saving research, clinical care and support services which include sending children served by MDA to a weeklong, barrier-free MDA summer camp.
For more information about Ride for Life XXVII, or for details on packet pickup/ drop-off, visit mdarideforlife.org or call the local MDA office at (610) 391-1977.
About Ride for Life XXVII
Thousands of motorcycles will rumble into Southeastern Pennsylvania on May 3-4 for Ride for Life XXVII, presented by the Eastern Harley-Davidson Dealers Association (EHDDA).
All motorcycle brands are welcome at the two-day event that kicks off Saturday, May 3, 1 p.m., at the ArtsQuest Center at SteelStacks. Participants can enjoy live music and entertainment, courtesy of several popular local bands that'll be performing throughout the day.
Day one also will feature the American Motordrome Stunt Show, silent auctions, raffles, food and beverage vendors and — of course — the exclusive Bret Michaels concert.
Day two begins with the parade of motorcycles. Staging begins at 8 a.m. at the Penn State-Lehigh Valley Campus, and will depart at 10 a.m. to the SteelStacks ArtsQuest Center where Ride for Life festivities will resume. Visit MDARideforLife.org for a full schedule of events.
For up-to-date information about Ride for Life XXVII, follow us on Facebook (facebook.com/mdarideforlife) and Twitter (@MDARide4Life).
About MDA
The Muscular Dystrophy Association is the world's leading nonprofit health agency dedicated to saving and improving the lives of anyone with muscle disease, including muscular dystrophy, amyotrophic lateral sclerosis (ALS) and other neuromuscular diseases. It does so by funding worldwide research to find treatments and cures; by providing comprehensive health care services and support to MDA families nationwide; and by rallying communities to fight back through advocacy, fundraising and local engagement. Visit mda.org and follow us at facebook.com/MDAnational and @MDAnews. Learn more about MDA's mission by watching this video.