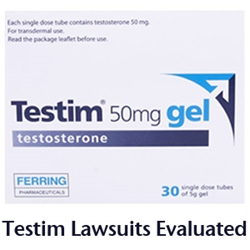 If you believe you have suffered a stroke, heart attack or other cardiac issues due to Testim or other Testosterone Treatment Drugs contact Wright & Schulte LLC for a Free Case Evaluation by visiting www.yourlegalhelp.com or call 1-800-399-0795
Columbus, OH (PRWEB) April 26, 2014
A Testim lawsuit information page (TestimLawsuits.com) has been launched by Wright & Schulte LLC to provide people with the latest information on the serious side effects allegedly associated with testosterone replacement therapy drugs such as Testim as well as the rising number of testosterone lawsuits. According to court documents more than 50 testosterone treatment lawsuits have been filed across the country on behalf of men who alleged that they experienced potentially dangerous cardiac events such as strokes and heart attacks after using the products. (In Re: Testosterone Products Liability Litigation, No. 42, JPML)
The firm is currently offering free legal evaluations to men who believe they have suffered strokes, heart attacks, or other cardiovascular events, due to the result of taking Testim and other low testosterone treatment drugs.
Testim is a prescription medication approved by the U.S. Food & Drug Administration in October 2002 to treat men with no or low testosterone associated with a medical condition. Auxilium Pharmaceuticals, Inc., manufacturers and markets the topical gel which contains testosterone and is applied to the shoulders and/or upper arms. The website for Testim states that the most common side effects of the drug include headache, skin irritation where Testim is applied, increased blood pressure and increased red blood cell count. Other side effects, according to the website are more erections than are normal for the Testim user or erections that last a long time.
[testim.com/safety-information.php]
In May 2009, the FDA required Auxilium Pharmaceuticals, Inc., to include a boxed warning on the label of the product after receiving reports of virilization of children who are accidentally exposed to the topic gel through contact with a man who is using Testim.
On January 31, 2014, the FDA launched an investigation into testosterone replacement treatment drugs, such as Testim AndroGel, and Androderm after reviewing two studies concerning the cardiovascular risks associated with the medications. One study suggested that older men with an underlying cardiovascular disease who were prescribed testosterone replacement therapy were at a higher risk for stroke, heart attack and death compared to men who had not been prescribed the medication. A second study showed that older men and younger men with pre-existing heart disease who used prescribed testosterone replacement therapy products were at an increased risk of having a heart attack.
[fda.gov/Drugs/DrugSafety/ucm383904.htm, January 31, 2014]
According to court documents, more than 50 testosterone lawsuits have been filed since the FDA made its announcement in January 2014 that it is investigating low testosterone treatment drugs. Due to the mounting complaints a motion has since been filed to consolidate all pending cases involving testosterone therapy drugs to the U.S. District Court, Eastern District of Louisiana (In Re: Testosterone Products Liability Litigation, No. 42, JPML)
Court documents further reveal four Testim lawsuits were recently filed in the Philadelphia Court of Common Pleas and one was filed in the U.S. District Court for the Eastern District of Louisiana. All the plaintiffs in these testosterone lawsuits allege in their complaints that they suffered serious side effects as a result of using testosterone replacement therapy. In one Testim lawsuit (Case No. 140301684);, a man from Louisiana stated he suffered multiple strokes, another had a heart attack (Case No. 140302537), and the third one had heart bypass surgery (Case No.140303508). A man from Louisiana filed a federal lawsuit alleging that he suffered neurologic impairment and cognitive deficits and impairment after using Testim and AndroGel. (Case No. 2-14-cv-00839000)
Due to the growing number of testosterone replacement therapy lawsuits in federal courts around the country against the manufacturers of such testosterone therapy drugs as Testim, AndroDerm and AndroGel, plaintiffs who filed these complaints have asked the U.S. Judicial Panel on Multidistrict Litigation to transfer and consolidate all lawsuits to the U.S. District Court for the Eastern District of Louisiana. (In Re: AndroGel Product Liability Litigation, MDL Docket No. 36)
About Wright & Schulte LLC
Wright & Schulte LLC, an experienced personal injury firm, is dedicated to the belief that America's legal system should work for the people. Every day, the attorneys of Wright & Schulte LLC stand up for the rights of people who have been injured or wronged and fight tirelessly to ensure that even the world's most powerful corporations take responsibility for their actions. If you're looking for a law firm that will guarantee the aggressive and personal representation you deserve, please do not hesitate to contact Wright & Schulte LLC today. Free Testim lawsuit case evaluations are available through yourlegalhelp.com or by calling 1-800-399-0795.
Contact:
Wright & Schulte LLC
812 East National Road
Vandalia, Ohio 45377
1-800-399-0795
http://www.yourlegalhelp.com
Like us on FaceBook
Follow us on Twitter