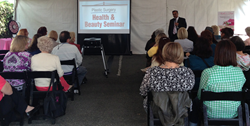 Riverside, CA (PRWEB) April 25, 2014
The public is invited to learn about the latest innovations in plastic and reconstructive surgery, including options for treating common skin conditions and demonstrations to avoid common work-related conditions, at an educational forum hosted by Loma Linda University Health System Department of Plastic Surgery on Thursday, May 8.
The forum, free and open to the public, is set for 3 p.m. to 6 p.m. at the LLUHS Department of Plastic Surgery Riverside clinic, 3762 Tibbetts Street, Riverside, Calif. 92506.
The event will feature a live demonstration of a liquid facelift, followed by presentations about aesthetic and reconstructive procedures, done by the expert surgeons of Loma Linda University School of Medicine. The surgeons will also give practical health advice, including a demonstration on how to best position the body when using a computer to avoid injuries, such as carpal tunnel syndrome. Participants will also have the chance to ask the surgeons questions about plastic surgery and minimally invasive treatments, in a fun and relaxed atmosphere.
"Our Spring event has become a major focus of our educational outreach over the past five years," said Dr. Subhas Gupta, chairman of the LLUHS Department of Plastic Surgery.
"This year's Educational Seminar falls at the beginning of Skin Cancer Awareness Month and we want to be certain that everyone knows how best to protect themselves. Our presentations at this event will include a focus on caring for your skin and common skin conditions in addition to cosmetic and reconstructive topics presented by our plastic surgeons. We shall also offer a limited number of digital skin analyses to attendees to help them identify changes to their own facial skin. This is sure to be one of our most educational events to date," he said.
For more information and to RSVP, call 951-686-2224 or e-mail info(at)LLUplasticsurgery(dot)com.
Photo Caption: The Loma Linda University Health System Department of Plastic Surgery will host an educational forum from 3 p.m. to 6 p.m. on Thursday, May 8, at the department's clinic in Riverside. In this file photo from a previous educational forum, Dr. Subhas Gupta, chairman of LLUHS Department of Plastic Surgery, gave health tips and advice to forum participants.
###
About Loma Linda University Health System (LLUHS)
Loma Linda University Health System is the network of over 800 physicians who have staff privileges at Loma Linda University Health (LLUH). Many of these board-certified physicians are pioneers and leaders in their field. LLUH includes Loma Linda University's eight professional schools, Loma Linda University Medical Center's six hospitals and the faculty physicians located in the Inland Empire of Southern California. Established in 1905, LLUH is a global leader in education, research and clinical care. It offers over 100 academic programs and provides quality health care to 40,000 inpatients and 1.5 million outpatients each year. A Seventh-day Adventist organization, LLUH is a faith-based health system with a mission "to continue the teaching and healing ministry of Jesus Christ."