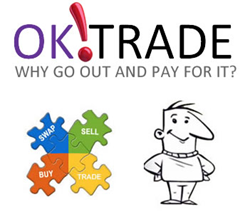 Trade, Swap, Sell or Buy Items online in a simple and convenient manner.
Ann Arbor, Michigan (PRWEB) April 29, 2014
OKiTRADE.com is pleased to announce the launch of its e-Commerce Marketplace. Consumers will now have the opportunity to Trade, Sell, Buy or Swap items online as members of this online community. Online Merchants from around the globe will also sell an array of products on OKiTRADE.
With Self-Storage facilities on the rise, the arrival of OKiTRADE (pronounced OK I TRADE) is not only timely, it's necessary. When items sit in storage units, they merely depreciate in value . Not only that but, the combined long term fees for storage units often exceed the value of the items actually being stored within. Estate Sales and Garage Sales are time consuming and only reach small audiences.
Now consumers can make money off of items they no longer need by either trading for items they can actually use, or by selling those items to other people who have a need for them. Online Merchants from around the world will also now have an additional venue in which to sell their items. Consumers as well as Online Merchants will benefit from this e-Commerce Marketplace. Registering as a Member or Seller on the site is secure, quick and easy, simply visit http://www.okitrade.com to sign up.
A unique feature that separates OKiTRADE from its competitors is that all standard listings are FREE! OKiTRADE plans to attract Online Merchants as well as Members with this Zero Listing Fee strategy. With standard listings, there are zero fees unless your item actually sells or is traded for another item. With other similar sites, users and merchants are charged fees immediately upon listing an item and have to pay those fees regardless if their items sell. Members can also have their ads automatically renewed without having to relist the item, which is a huge time saver. Ask anyone who's ever tried to sell an item online! OKiTRADE has really put a lot of thought into making the process user friendly for Members, as well as attractive to owners of Online Stores.
"With this unique format, it is our goal at OKiTRADE to revolutionize the e-Commerce Marketplace by being the first web based business to offer this new way items can be traded, sold, bought and swapped online", says OKiTRADE Owner and Founder, Trenton Robinson.
Contact:
Click here to view the OKiTRADE video
OKiTRADE.com
Website: http://www.okitrade.com
Telephone: 877-797-7984
Email: customerservice(at)okitrade(dot)com
Merchants interested in selling items at OKiTRADE should go to: http://okitrade.com/members/register/