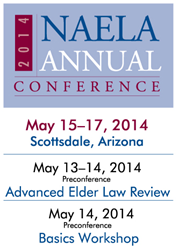 Scottsdale, Ariz. (PRWEB) April 28, 2014
The National Academy of Elder Law Attorneys (NAELA), a professional association for Elder and Special Needs Law attorneys, will host the NAELA Annual Conference from May 15-17, 2014, at the J.W. Marriott Camelback Inn in Scottsdale, Ariz.
This year's event offers the following general and breakout sessions:

Innovative Alzheimer's Disease research will be the topic discussed by William J. Burke, MD, Director, Stead Family Memory Center, Banner Alzheimer's Institute, Research Professor of Psychiatry, University of Arizona College of Medicine;
Changes in middle class estate planning brought about by changes to estate tax exemptions will be presented by Bernard A. Krooks, CELA;
The Effect of the Affordable Care Act on the Future of Special Needs Planning will be presented by Kevin M. Urbatsch, Esq.;
Financial Services — Long-Term Care Insurance will be presented by Andrew H. Hook, CELA, and Mark D. Munson, CELA;
The unique issues encountered when planning for clients with multiple sclerosis and other neurological disorders is the topic of the presentation by Stephen W. Dale, Esq., LLM, and Bonnie Danowski, Advocacy Volunteer, Member of Volunteer Hall of Fame;
And much more.
NAELA will also present the following awards at the conference:
NAELA Fellows
Powley Elder Law Award
John J. Regan Writing Award
President's Recognition Award
Outstanding Chapter Member Awards
Learn more about NAELA awards.
Members of the media are welcome to attend the NAELA Annual Conference. For information, contact Communications Associate Abby Matienzo by email at amatienzo(at)naela(dot)org or phone at 703-942-5711 #230.
About NAELA
Members of the National Academy of Elder Law Attorneys (NAELA) are attorneys who are experienced and trained in working with the legal problems of aging Americans and individuals of all ages with disabilities. Established in 1987, NAELA is a non-profit association that assists lawyers, bar organizations, and others. The mission of NAELA is to establish NAELA members as the premier providers of legal advocacy, guidance, and services to enhance the lives of people with special needs and people as they age. NAELA currently has members across the United States, Canada, Australia, and the United Kingdom. For more information, visit NAELA.org.
###