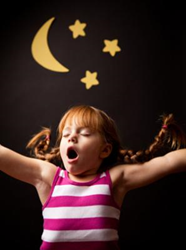 April is Stress Awareness month. Who knows more about stress than the modern day parent?
New York, NY (PRWEB) April 29, 2014
April is Stress Awareness month. Who knows more about stress than the modern day parent? With the demands of working, organizing multiple people's schedules, maintaining a household, and trying to preserve relationships, parents can find themselves stretched thin.
Parents have the stress and responsibilities of CEOs without the monetary reimbursement. These heavy daytime stressors can negatively effect quality sleep at night and raise stress levels. In turn, poor quality sleep can lead to more challenges in handling stressors during the day. What is a parent to do to stop this vicious cycle?
Ancy Lewis, Clinical Social Worker, and Sleep Expert of Sleeping Little Dreamers reports that because sleep and stress are related, improving one issue can naturally improve the other. Lewis, who is a mother herself, is well aware of how challenging it can be to make sleep a priority. However, she points out that the pains taken to address this challenge are well worth the benefits because they can lead to improved health and well-being.
In her most recent blog post, Lewis reveals several ways parents can address sleep and stress issues. She reveals two ways to relieve stress here:
Physical activity:
Exercise and proper levels of physical activity can improve mood and help people fall asleep and stay asleep better during the night. Parents often find a brisk walk or aerobic workout helps them manage their stress levels. The proper level of physical exertion is scientifically proven to lower stress hormones according to a July 2008 study titled "Exercise and circulation cortisol levels: the intensity threshold effect" by EE Hill.
Proper diet:
Avoiding caffeine and alcohol before bed can improve sleep. Eating a proper balanced diet can help with improving mood and reducing stress.
About Sleeping Little Dreamers:
Sleeping Little Dreamers is devoted to providing Sleep Coaching services to parents of children ages 6 months to 6 years with sleep issues. Owned by a social worker, Sleeping Little Dreamers offers individualized sleep consultations that address the needs, values and parenting philosophies of each family. Sleep consultations can be done by phone with parents all over the world, or in person for those in the Westchester County, NY area. With the collaboration and support of Sleeping Little Dreamers, parents have either experienced vast improvements in their child's sleep or a complete resolution of sleep issues.