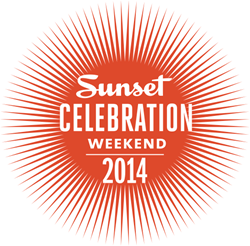 Celebration Weekend is the perfect opportunity to experience what's happening in our backyard while interacting with the lifestyle experts who are making the West one of the most exciting places to be right now.
Menlo Park, CA (PRWEB) April 28, 2014
On May 31st and June 1st, tens of thousands of Sunset fans will join Sunset editors, celebrity chefs—such as Fabio Viviani and Ryan Scott—and renowned lifestyle experts in Menlo Park for Sunset Celebration Weekend 2014: Next in the West. At Sunset Celebration Weekend, winner of the 2014 FAME Award for Best Overall Single Event, Sunset's beautiful seven-acre campus will transform into an interactive showcase for the region's most exciting lifestyle inspiration and freshest flavors. Complete stage schedules and more information can be found at http://www.sunset.com/cw.
For the first time ever, Sunset is offering a VIP Access Pass ($80) to Celebration Weekend. At a value of $200, VIP Access Pass holders will enjoy

Front-of-the-line entry into the event and activities
Exclusive access to a dedicated VIP lounge with snacks and drinks
Access to VIP restrooms
An exclusive ticket to one preferred activity of your choice: a front row seat at a celebrity chef demo, a wine seminar, or a Weber Grilling School class, while supplies last
To purchase a Celebration Weekend VIP Access Pass and general admission tickets, go to http://www.sunset.com/cw.
"Celebration Weekend is the perfect opportunity to experience what's happening in our backyard while interacting with the lifestyle experts who are making the West one of the most exciting places to be right now," said Peggy Northrop, Sunset's editor-in-chief. "This is one of my favorite events of the year. I love touring the exhibits, meeting our readers face-to-face, and sampling and sipping my way through the fantastic food and wine."
Featured Exhibits & Seminars
"Small Space, Big Dreams Gardens," featuring The Sunset Tiny House
Every year Sunset creates a stunning exhibit for Celebration Weekend devoted entirely to design lovers. This year's exhibit, the Small Space, Big Dreams Gardens, showcases five exceptional ideas for transforming compact backyards into extraordinary outdoor rooms. Featuring The Sunset Tiny House, these smart and stylish gardens demonstrate how to make every detail count when space is limited:

Tropical Garden, by Living Green
Edible Bounty Garden, by Star Apple Edible + Fine Gardening
Woodland Garden, by Ground Cover Landscaping
Urban Calm Garden, by Growsgreen Landscape Design
Desert Modern Garden, by the garden editors of Sunset
Nestled in the Woodland Garden section of the exhibit, The Sunset Tiny House, built by the Tumbleweed Tiny House Company, highlights the West's love of innovative and beautiful compact living spaces. Resembling a modern backyard cottage, The Sunset Tiny House is a 172-square foot home with big personality.
Get the behind-the-scenes scoop on Celebration Weekend directly from The Sunset Tiny House itself by following @SunsetTinyHouse on Twitter. Stay up to date as Sunset editors trick out the space, throw tiny dinner parties, and see how many Sunset staffers can fit inside. Small Space, Big Dreams and its designers are also featured on the Sunset Magazine Pinterest (http://www.pinterest.com/sunsetmag/) and Facebook boards (http://www.facebook.com/sunsetmagazine) #smallspacebigdreams.
Top Chefs Fabio Viviani and Ryan Scott Headline Two Days of Cooking Demos
With top culinary stars presenting over 12 seminars on the main Cooking & Entertaining Stage, food lovers are guaranteed to leave Celebration Weekend full of fresh ideas for the kitchen from some of the West's brightest culinary stars.

Bravo's Top Chef season five, and fan favorite, Fabio Viviani will be front and center on Saturday and Sunday as he whips up homemade gnocchi.
Chef Ryan Scott is best known as a Bravo Top Chef contestant, KGO radio host of Cooking with Ryan Scott, and host of TV's Food Rush. At Celebration Weekend, Ryan will wow the crowd with his infectious energy and a recipe for spicy grilled prawns with grilled watermelon salad.
One of America's top grilling experts and Weber's master griller, Jamie Purviance, demonstrates the perfect recipe for spicy ginger-scallion burgers with sesame spinach.
Sunset is also happy to present:
Suvir Saran - Top Chef Master and author of three cookbooks, his latest titled Masala Farm: Stories and Recipes from an Uncommon Life in the Country.
Waylynn Lucas- Pastry chef, and owner of Fōnuts in Los Angeles. Waylynn also starred on season one of Bravo TV's Eat, Drink, Love.
Sunset editors Margo True and Elaine Johnson will also share favorite recipes from the Sunset kitchen and The Great Outdoor Cookbook.
What's Next in Food
Four innovative food artisans join Celebration Weekend this year with delicious proof of today's major trend: Everything old is new again. Come visit The SHED's Fermentation Bar for a refreshing glass of shrub. Taste award-winning chocolate and preserves from Dandelion Chocolates and Blue Chair Fruit, as well as an array of favorite treats from Good Eggs, specialists in local, farm-fresh grocery delivery.
Also on hand again this year, the Bay Area's best food trucks, including Ear Good Corn, El Sur, How Ya Bean, Little Green Cyclo, Old World, Seoul on Wheels, Ultra Crepes, Gerard's Paella, Gourmet Faire, Kettle Korner, and Sonoma Teriyaki just to name a few.
Wine Seminars and Pouring Lounge
Join Sara Schneider, Sunset's wine editor for sessions on sparkling wine, featured wines from the Sunset International Wine Competition, and a seminar dedicated to wine in the movies. Sara will also lead attendees through a special beer tasting with Sarah Johnson, Mandalay Bay's Director of Food & Beverage and Nevada's first female Certified Cicerone (beer expert).
Cost per seminar: $15 per person. Wine Seminars have limited seating and are available on a first-come, first-served basis. Sign-ups will be taken on-site. Tastings are included in the cost of each seminar.
Garden and Outdoor Living Stage
Sunset garden gurus Kathleen Brenzel and Johanna Silver will be joined by some of the West's leading experts in landscaping, backyard farming, and horticulture at this perennially popular area of Celebration Weekend. From seminars on carnivorous plants to the important topic of designing for a drought, Sunset has assembled two full days of seminars dedicated to the garden and living your best life outdoors. Garden lovers can also stroll the Sunset test garden, where the editors show off favorite plants, projects, garden gadgets, and their very own chickens.
Home & Design Stage
This year's home stage brings together an impressive group of designers pioneering the future of sustainable design. Seminars include "What's Next in Sustainable Design," "Forecasting Future Trends in Design" and "The Present and Future of 3-D Printing." A panel of "tiny living" bloggers, journalists and experts will also assemble to discuss the benefits and challenges of building tiny. Looking for color and decorating inspiration? The home stage will also host seminars on "Garden-Inspired Outdoor Color Schemes" and "Decorating Myths and Solutions."
Travel Stage
The travel stage should be the first stop for anyone interested in exploring the West—from discovering "Wildlife in Your Local Parks" to learning "Inside Secrets of the Last Frontier," led by Joe Williams, a critically acclaimed tour guide and the first Tlingit native to be elected Mayor of Ketchikan Borough. Other seminars include "Campsite Cooking" with Sunset's Amy Machnak, "Travel Photos Your Neighbors Will Want to See" with Sunset staff photographer Tom Story, and "Outdoor Adventure in California" with the editors of Weekend Sherpa.
Celebration Weekend 2014 Event Information:
A complete schedule of presenters and events, event information, and online tickets can be found at http://www.sunset.com/cw.
What: Sunset Celebration Weekend: Next in the West
Date: Saturday and Sunday, May 31st and June 1st
Time: 10am to 5pm
Location: Sunset Headquarters, 80 Willow Road Menlo Park, CA 94025
Prices: $20 General Admission, $18 Seniors (60+, no other discounts allowed), $80 VIP Adult, $40 VIP Children
Kids:12 and under, free
Discount: See 2014 Event Information at http://www.sunset.com/cw to find out how to save $1 by bicycling to the event. Bicycle valet provided.
Tickets: Tickets can be purchased at the door, or in advance at http://sunsetcw2014.eventbrite.com (discounts cannot be applied to advance tickets)
Parking: Free
More info, parking, directions, and stage schedules: http://www.sunset.com/cw
Questions: Call 800-786-7375, or send an email to celebration(at)sunset(dot)com
Stay up-to-date on Celebration Weekend 2014 by liking Sunset on Facebook (http://www.facebook.com/sunsetmagazine), and following @SunsetMag on Twitter, Instagram and Pinterest #SunsetCW.
Sunset Celebration Weekend sponsors include California Avocado Commission, Kelly-Moore Paints, Mandalay Bay Resort & Casino, MorningStar Farms, Outshine Snacks, San Luis Sourdough, Sunbrella, Torani and Weber. Sunset's community partner is the Children's Health Council.
**Sunset editors, and presenting chefs available for interviews. Recipes available by request.
About Sunset
Sunset (sunset.com) is the leading lifestyle brand in the West. Through magazines and books, events and experiences, and digital and social media, Sunset covers the West's best flavors, destinations, design trends, and innovations. Sunset engages and inspires an audience of over five million educated, active and affluent consumers every month through its five regional print editions—Pacific Northwest, Northern California, Southern California, Southwest and Mountain—as well as via all tablet devices and its website. In addition to its print and digital publication, Sunset showcases the region's unique lifestyle and noteworthy destinations through its flagship events, established home programs, licensing partnerships, books and International Wine Competition. Sunset is produced by Time Inc., one of the largest media companies in the world.