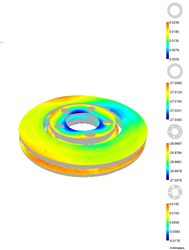 Ann Arbor, Michigan (PRWEB) April 28, 2014
At EuroBrake 2014 at booth 53 in Lille, France Link Europe GmbH, a subsidiary to Link Engineering in Michigan USA and Coherix will exhibit the new surface analyzer ShaPix for the brake manufacturing industry. Coherix and Link will display the contour and shape of a brake pad area that contacts a rotor, which plays an important role in braking, stability control and braking feel. Participants will gain an understanding of the full surface shape of the parts and how they are interacting with each other to access wear, brake noise and longevity.
Brake manufacturers now have access to a robust 3D vision solution from Coherix that provides a full surface measurement of the brake pad and backing plate along with depicting how both parts interact with each other. Data-rich point cloud information is captured in minutes using the state-of-the-art ShaPix technology. The ShaPix software included with the solution provides the tools necessary to fully conduct an analysis of the surfaces, quickly providing actionable results.
An additional powerful and unique offering of this solution is the wear analysis capabilities, which are greatly enhanced using measurement subtraction. With this process the operator measures the brake pad before and after the test and then looks at the difference between the shapes. Additionally, full surface measurements of the backing plate provide insight into the application of the brake pads.
The ShaPix visualization outputs include 3D color height maps, which easily identify high and low spots, 2D line plots, profile tools and many more. These easy to understand visualizations quickly identify problem areas and help manufacturers mitigate shape based issues, like low frequency vibration.
Coherix designs and delivers high-speed, high-definition, 3D metrology and inspection tools for product development and the management of manufacturing processes for the precision manufacturing and semiconductor industries. Headquartered in Ann Arbor, Michigan the company has technical centers in Europe and the Asia Pacific region. Coherix products are being utilized around the world at companies such as Intel, Amkor, BorgWarner, Ford, Honda, Allison Transmission, Chrysler, General Motors, Micron, Infineon, John Deere, Volvo Technology Transfer and Aisin among others.
Link Engineering Company is a multinational organization dedicated to the design and manufacturing of precision test systems for the global transportation industry. Their in-house design and manufacturing capabilities range from full mechanical, electrical and software design, to fabrication, assembly and acceptance. With testing laboratories strategically located around the world, they also provide comprehensive electro-mechanical testing services.