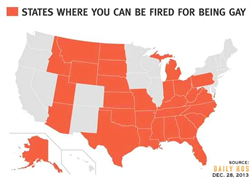 You would never see homosexuality as a termination for cause in a contract today
Philadelphia, PA (PRWEB) April 25, 2014
Online now and airing Monday, April 28 at 7:00 p.m. on the Philadelphia CNN-News affiliate WFMZ-TV, The American Law Journal presents "Sexual Orientation and LGBT in the Workplace: 'ENDA' of Discrimination?"
On the program, accountant Daniel Miller recounts his legal battles after being fired for his sexual orientation in the early 1990's. Employers' defense attorney Anthony Haller of Blank Rome and employee plaintiff's lawyer Angela Giampolo join Miller and host Christopher Naughton to discuss the proposed federal 'ENDA' Employment Non-Discrimination Act and state and local municipality legislation.
"You would never see homosexuality as a termination for cause in a contract today," says Giampolo on the program. "But we have had to use creative lawyering to help the likes of the Daniel Millers of today. The laws are not uniform. If gay law were straight law and straight law were gay law, I could use my creative lawyering for better purposes."
"I would actually take issue that the law hasn't changed," counters Haller in the discussion. "There has been an evolution of the law that does give some basis for protecting people in the workplace where they feel they are being harassed because of their sexual orientation."
The program includes a map graphic by the Daily Kos, indicating the 29 states where an employee can be fired for being gay as of 2013.
Miller's case drew national attention as it progressed through the courts, with a New Yorker magazine cover article and front page story in The New York Times in the mid-1990's. He lost his case on appeal in a 2-1 decision by the Pennsylvania Superior Court and the U.S. Supreme Court denied certiorari to hear the case.
Case
DeMuth v. Miller, 28 Pa. D. & C. 4th 161 (1993)
DeMuth v. Miller, 652 A. 2d 891 (1995)
DeMuth v. Miller, 438 Pa. Super. 437 (1995)
DeMuth v. Miller, 516 U.S. 1114, 1116 S.Ct. 916 (1996)
About The American Law Journal
The American Law Journal is the weekly talk-feature program hosted by former New Jersey prosecutor and trial attorney Christopher Naughton. It airs Monday nights at 7:00 p.m. on the CNN- News affiliate in Philadelphia, WFMZ-TV to Pennsylvania, New Jersey, Delaware and online. On the air over twenty years, the program discusses consumer, business and Constitutional issues with attorneys, law professors, judges, elected officials and others to shed light on current legal news and how the system impacts the everyday lives of citizens.
Programs are live or taped in studio and on location in and around Philadelphia. For information, schedules and more, visit LawJournalTV.com. Archived programs can be viewed on YouTube, http://www.YouTube.com/LawJournalTV.