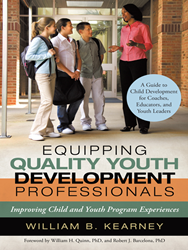 Cumming, Georgia (PRWEB) May 05, 2014
Youth need quality support to succeed in today's fast-paced, technology driven world.
In his new book, "Equipping Quality Youth Development Professionals," William B. Kearney offers a practical resource boasting information to volunteers, coaches, educators, group leaders, professionals, organizations and youth programs on topics like tools for success and reaching true potential.
The book serves as a supplemental reference that can be implemented by any organization and adopted to each school age group as it offers easy-to-read information and practical activities.
Kearney was inspired to write the book after seeing hundreds of child and youth programs that lacked a resource specifically designed for direct care staff and volunteers.
"These individuals want to succeed, but often do not have the training resources to help them appropriately develop materials for their targeted children and youth," Kearney said.
To accompany the book, he has also developed E-QYPTM, an iPhone and iPad app for child and youth professionals and volunteers. He hopes that the book will be viewed as an imperative tool and be adopted as a common resource across organizations and providers.
"Equipping Quality Youth Development Professionals" by William B. Kearney
Hardcover: 978-1-49171-935-0, $26.95
Softcover: 978-1-49171-934-3, $16.95
E-book: 978-1-49171-936-7, $3.99
Available at amazon.com, barnesandnoble.com, iuniverse.com
About the authors
William B. Kearney is a husband, father and grandfather. With a master's degree in public administration from The University at Albany, State University of New York, he has worked in the nonprofit, private, government and public sectors. The co-owner of WBKEARNEY & Associates, he has dedicated his career to helping youth and has over 36 years of experience in human-service field. Kearney currently lives in Cumming, Georgia.
# # #