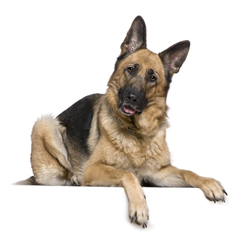 "'Max,' she recalled saying to her ailing purebred German Shepherd, 'I will take care of you until you tell me you want to go.'"
St. Joseph, Missouri (PRWEB) April 30, 2014
Jean Burdick grew up loving animals, and the dairy farm she was raised on offered her plenty of opportunities to get know and love many pets. With her family grown and out of the house, the 90-year-old lives with animal companions that keep her company and entertained. Shadow, her German Shepherd/St. Bernard mix, is one of the very best of these friends – and the reason her story is a recent testimonial for the value of FLEX Rx from Pro Labs, a national leader in veterinarian-quality products for pet health.
Burdick and Shadow have been great friends the past 14 years. The German Shepherd/St. Bernard mix began showing signs about a year and a half ago of a problem Burdick is far too familiar with: joint pain. It was obvious that Shadow was experiencing joint pain, a problem that his father, Max, finally succumbed to several years ago.
"'Max,'" she recalled saying to her ailing purebred German Shepherd, "I will take care of you until you tell me you want to go." Burdick has a hard time sharing the part of the story where Max finally gave her the look that said he'd had enough.
When Shadow, who follows Burdick everywhere, started to show the tell-tale signs of the same condition that brought down his father, she started looking for solutions. Shadow's conditioned deteriorated so much that Burdick would have to use a towel around his hind legs and pull on to get him upright. She would also cart him around the farm, but at 90, it had been getting too difficult to lug that massive dog into the cart.
Thumbing through a magazine one day, Burdick noticed an advertisement for Flex Rx, a product made by ProLabs for dogs with joint issues. Burdick doesn't "fuss" with computers, so she called ProLabs and put in an order for the all-natural product that has been clinically proven to assist dogs with their joint health.
"I'll tell you I was hoping that maybe in two or three weeks he would show some improvement," she said, "but it started in four or five days."
Burdick hasn't had to use the towel or the cart since he started showing improvement. Shadow is now following her around the house and the farm just like he did before his joints started deteriorating. "I'm putting you all in my prayers every night," says Burdick. "Thank you, thank you, thank you."
"Purchasing pet health products from ProLabs gives pet owners a sense of accomplishment, because they know they are contributing to the well-being of their pets. Our products like FLEX Rx continue to pet owners in control of their pet health decisions, rather than just trying to 'live with' common problems like joint stiffness as their pets age," says Brian Reardon, business unit manager for companion animals, ProLabs. "Stories like this one continue to reflect consumer interest nationwide in caring for their pets at home with the highest-quality, vet-tested products on the market. We're a leader in that trend, and we have been for years."
FLEX Rx is the first product of its kind developed to address joint problems that develop in canines. Managing joint health at the metabolic level, FLEX Rx is built to affect metabolites like arachidonic acid, which is what contributes to deteriorating joints. The ingredients are all-natural and have been shown in scientific studies to perform two times better at relieving pain scores than Cosequin® DS1.
From joint health supplements to ear care, tapeworm treatments, home vaccinations and skin treatments, ProLabs is a leader in veterinarian-quality products for dogs and cats. With ongoing evaluation by practicing veterinarians and clinically-proven scientific research, ProLabs maintains a standard of the highest quality and effectiveness for pet owners. For more information, visit http://www.prolabspets.com.