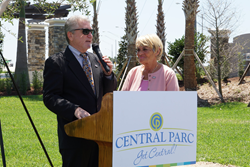 Today marks the start of construction on 253 new, single-family homes, here in Tamarac.
Tamarac, FL (PRWEB) April 28, 2014
On Wednesday, April 23rd, Central Communities broke ground on Central Parc, an attainably priced, single-family home community in Tamarac, Florida. Central Parc is the first of several new projects slated for construction in the immediate area.
The Gold Shovel Ground Breaking Ceremony commenced with Central Communities Division President Michael Nunziata initiating the festivities. Nunziata stated proudly that today "marks the start of construction on 253 new, single-family homes, here in Tamarac," and that the community will "contribute to the existing fabric of a great city."
Nunziata then handed the podium to Tamarac Mayor Harry Dressler, who spoke enthusiastically about the future of Central Parc and Tamarac. Tamarac District 1 Commissioner Pamela Bushnell concluded the speaking portion of the event and struck the first shovel into the dirt.
Located in Central Broward County, at the Florida Turnpike and Commercial Blvd, Central Parc is just 15 minutes from Miami-Dade and 10 minutes from Palm Beach County. The community is also close to many restaurants, shops, beaches and parks.
Starting in the low $200's, Central Parc will offer single-family homes with 3- and 4-bedroom floor plans. The community will also include a neighborhood pool, BBQ area, walking paths and biking trails.
To learn more about Central Parc, call 954-556-6754, visit GetCentral.com, or visit the sales center at 4840 NW 56th Court, Tamarac, FL 33319.
About Central Parc
Central Parc is being developed by Central Communities, an affiliate of Miami-based 13th Floor Investments. The company also partnered with The Estate Companies for this community. Central Communities' mission is to build centrally located homes that are attainable to families eager to live near work and great schools.
13th Floor Investments is a multifaceted development firm that also develops luxury condos and Class A rental Communities across Florida. The firm often joins forces with real estate partners and serves as a source of capital, a principal investor, operator and asset manager.
Media Contact:
Deb Marton
New Home Consultant
O: 954-556-6754
M: 954-702-0148
E: Deb(at)GetCentral(dot)com
###