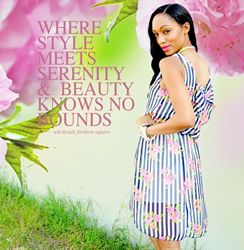 Where Style Meets Serenity & Beauty Knows no Bounds
(PRWEB) April 28, 2014
Wholesale Fashion Square, one of the net's leading wholesalers of women's apparel, has unveiled a brand new range of fashions in its new Spring Fling category.
"As spring arrives, we felt it was appropriate to add lots of new, fun styles that reflect the light, airy fashion trends that are so hot this season. Spring is the perfect time to clean out your closet and upgrade to some fresh-off-the-runway styles!" explained Edita Kremerman, owner adding, "We've also expanded to include lots of hot new spring dresses, along with formal prom wear and jewelry too!"
This spring's styles reflect a light, cheery feel, with flowing fabrics, florals, shades of peach, green, pink and tangerines. Florals are also a common theme among this season's dresses.
Wholesale Fashion Square's selection is vast, from dresses and skirts, to rompers, jeans, leggings, tops, jewelry, accessories, club wear, outwear, active wear styles, fragrances and even men's wear. Shoppers, re-sellers and retailers alike will find tons of great styles, including plus sizes, classic and office chic outfits along with, formalwear and trendy fashions that are perfect for a night out on the town.
This newest addition of a Spring Fling category comes on the heels of several other recent additions. In recent weeks, Wholesale Fashion Square has expanded to add a few additional sections, including a Flash Sales department, along with a Deal of the Day section with deep discounts of up to 50 percent off for just 24 hours, along with a new Editor's Picks area with WFS' favorite styles fresh off the fashion runways! The online wholesaler also added a new line of prom dresses and high quality jewelry, just in time for the spring formal and prom season.
Wholesale Fashion Square shoppers will also enjoy speedy delivery, with same-day shipping available on all orders that are placed before 12:00 noon PST.
Shoppers also enjoy money saving offers, sent out in the form of promo codes that are available to e-mail newsletter recipients and on-site. The current 10 percent off promo code is WFS10.
To view Wholesale Fashion Square's selection of spring styles, visit http://www.WholesaleFashionSquare.com.