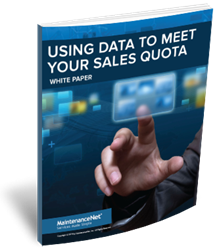 Carlsbad, CA (PRWEB) April 29, 2014
April 29, 2014 – MaintenanceNet, Inc., the leading provider of service revenue generation solutions, today announced it has released a new white paper detailing the art of transforming customer data into actionable business intelligence to meet and exceed sales quotas and drive recurring revenue. The white paper, titled "Using Data to Meet Your Sales Quota," is now available as a complimentary download on the MaintenanceNet website.
Offering insight gleaned from best practices used by the world's leading technology companies, the new white paper explains how companies can successfully sort through existing data sources, cleanse and enrich customer data and use predictive or prescriptive analytics to more efficiently take action on service renewal opportunities.
"Sales managers that excel at interpreting customer data consistently unlock hidden revenue opportunities, hit their numbers more often and propel their companies past competitors time and time again," said Kelly Crothers, vice president of marketing for MaintenanceNet.
Featured in the white paper are seven actionable steps that organizations can take immediately to achieve stronger sales results including:

Using data to better understand customers, their buying patterns and their relationship to your company;
How to interpret data and develop metrics to aid in identifying new revenue opportunities;
Improving sales and channel enablement and eliminating friction across service ordering processes with data-driven automation; and
Building a successful service annuity practice to drive recurring revenue.
"When businesses can properly aggregate, enrich and present installed base data – making it actionable for their sales teams – they're not only better able to meet sales quotas and build incremental revenue, but they can also reduce the cost of sale and free up their sales talent to focus on higher-value opportunities," said Crothers. "Our new white paper spells out proven strategies and best practices that can transform a company's service sales growth and success."
To download the complimentary white paper now, click here.
For more information on MaintenanceNet and its complete line of product and service annuity solutions, visit http://www.maintenancenet.com, or follow MaintenanceNet on Facebook, Google+, LinkedIn and Twitter.
About MaintenanceNet
MaintenanceNet empowers the world's leading manufacturers and their channel partners to expand the scope and success of their service sales initiatives. The company has delivered billions of dollars in service revenues, while also improving overall customer satisfaction and retention for the businesses it serves. The key to MaintenanceNet's success is its proficiency in turning incomplete or inaccurate customer data into actionable business intelligence that drives revenue and profits for manufacturers. MaintenanceNet's Service360® cloud-based platform and AutoQuoteTM solution expedite and automate sales processes, and provide a channel-friendly approach to service quoting, ordering and renewing. For more information, visit http://www.maintenancenet.com or call 866-699-7212.
###
MaintenanceNet is a registered trademark of MaintenanceNet Incorporated.