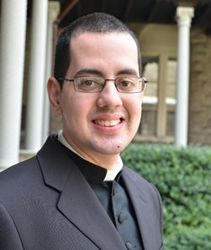 Making reservations for this wasn't easy
Rome, Italy (PRWEB) April 27, 2014
Fr. Adaly Rosado is a priest for the Archdiocese of New York. He was contacted in 2013 by Tekton Ministries to lead a pilgrimage to Italy in the Spring of 2014. The timing couldn't have been more perfect.
Originally scheduled to depart on April 28, Fr. Rosado's pilgrimage itinerary was changed to leave one week earlier. This meant that he and his twenty pilgrims would be in Rome for the canonization of John Paul II and John XXIII.
Ordained a priest in 2011, Fr. Rosado couldn't wait to leave for his pilgrimage. His personal website said that he will "offer mass (sic) for your intentions every time I celebrate Mass in Italy during this trip. Just send your intentions to me at fatherrosado(at)fatherrosado(dot)com or tweet them [to] @FatherRosadoNY."
Richard Sontag, director of Tekton Ministries, was excited to be able to provide Fr. Rosado and his pilgrims with the opportunity to witness the canonization, as well as visit Assisi and Rome. "Making reservations for this wasn't easy," he said. "We didn't have much planning time and hotels were being booked very quickly. But our company has many contacts in the pilgrimage business and we all made it work." Deposits for the pilgrimage for $1000, non-refundable, according to the brochures.
Fr. Rosado has promised to provide first-hand accounts of the whole pilgrimage, including the canonization, through his twitter account and website. His posts are written in both English and Spanish.
Fr. Rosado, despite becoming sick upon arrival in Assisi, has enjoyed his Tekton pilgrimage thus far and has reported to the staff of Tekton Ministries that he is feeling much better.
He and his pilgrims will return to the United States on April 30, having witnessed history in-the-making.
To learn more about Catholic pilgrimages, contact Tekton Ministries at (317) 574-4191.