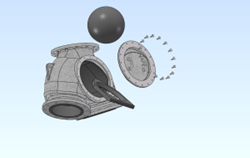 Why spend a lot of time and money removing a valve from the pipeline if you don't have to?
Kelowna, BC (PRWEB) April 29, 2014
Unicast, Inc announces today the release of its much-awaited slurry valve offering inline maintenance, the UniBall Three-Way Check Valve. Designed for the mining industry and the transport of slurry, the UniBall is the first three-way check ball valve of its kind that offers inline maintenance. The innovative design of the UniBall offers a cost-saving solution for the mining industry.
Unicast's latest innovation is an alternative to traditional check ball valves that must be removed from the pipeline in order to perform regular maintenance and repair. Valve removal from the pipeline involves shutting down operations which can cost a plant thousands of dollars per hour in downtime. The valve is often removed by a crane or lift and sent off-site for repair at additional costs.
"When we saw how much time and money were being wasted by these traditional valves, we knew this was a problem we could solve." says Gerry L'Esperance, CEO and founder of Unicast, Inc. "We applied the same principal of inline maintenance that has made our Convertible Diverter Valve such a success to the design of the three-way check valve. Just replacing a traditional ball valve with the UniBall will really save a plant a lot of hassle and money."
The UniBall is designed for quick and easy inline maintenance. With the valve inline, one person can remove one of the large access panels, unbolt the seat, remove and replace the seat, and replace the panel. UniBall Slurry Valve in Video
"A maintenance engineer only needs one tool for the entire procedure. That doesn't sound like a big deal, but to the guy in the trenches it sure is." says L'Esperance. "It's the difference between fumbling around in a toolbox searching for a bunch of wrenches or just grabbing the one tool you need to get the job done. Less downtime, lower costs, and happier engineers."
In addition to inline maintenance, the UniBall check ball valve is cast in one piece using the proprietary alloy D1 for durability. The housing, ball, and seats are also completely shielded by a rubber coating for maximum wear life.
Unicast is well-known in the cement and mining industries worldwide for its innovative Convertible Diverter Valves. The recent release of the UniBall Three-Way Check Valve is the company's latest cost-cutting solution for the mining industry.
"Why spend a lot of time and money removing a valve from the pipeline if you don't have to?" asks L'Esperance.
When it comes time to review annual operations costs, plant managers just may be asking themselves the same question.
Engineers and purchasing managers interested in learning more about Unicast's UniBall Three-Way Check Ball Valve can visit http://www.unicast.ca for more information.
##
About Unicast, Inc
Unicast designs and distributes quality cast replacement wear parts for the cement, mining, aggregate, and coal industries worldwide. We supply superior castings from chrome moly, manganese steels, heat and corrosion resistant stainless steels, high chrome white irons and low alloy steels.
Our core wear part solutions include diverter valves, apron feeder pans, grinding mill liners, hammers and blow bars, grizzly panels, and cooler grates. Our cast wear parts have been the reliable, hassle-free choice for maintenance engineers around the world since 1994. http://www.unicast.ca
Contact Information
Nicole L'Esperance, Marketing Manager
Unicast, Inc
+1-250-807-7999
http://www.unicast.ca
nicole(at)unicast(dot)ca