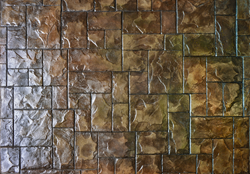 I wish I had the BC stamps to add to my set years ago.
Morris, Il (PRWEB) April 29, 2014
Walttools has just released a new line of custom concrete stamps that will appeal to the decorative concrete masses.
The BC line is a new line of stamps that are fully compatible with the three most popular Brickform patterns of all time. The Ashlar cut slate, the Random Stone, and the London Cobble are found in use anywhere stamped concrete is being done. The BC stamps from Walttools are completely custom made from handpicked, chiseled and formatted stones that are meticulously fitted into a design pattern which is fully compatible with the respective Brickform lines. The BC stamps from Walttools feature textures and stones that are designed to compliment and improve the look of the Brickform stamps by mixing up the sizing and pattern look. "Unlike the Brickform mats, every stone we have in our patterns are unique and non-repeated. This leads to a stamp job that is much improved over just using the few stones often repeated in those existing sets. Plus, when you have 6 different mats in a pattern, it exhibits far less repetition and finding a "pattern" to the project is difficult even for the trained eye," says Don Ciesielski of Walttools.
The BC stamps can also be used alone as a standard stamp set if one is looking for stamping tools with excellent detail.
The BC Ashler and Random each exhibit three different patterns. The BC cobble is one compatible stamp mat. Sold in sets and singles.