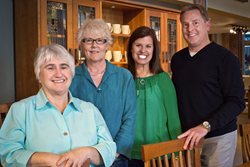 Today, we have a great group of passionate and dedicated workers who are committed to helping our new owners continue our adventure and take it to new heights.
Seattle, Washington (PRWEB) May 08, 2014
Since 1989 the McKinnon Furniture company has grown from a small futon manufacturer on 1st Ave South with a wood shop in the back and a little retail space in the front, to a nationally known maker of handcrafted hardwood furniture.
Today their 12,000 square foot retail showroom in the historic 1201 Western Building at Western and Seneca is home to dozens of furniture models representing the hundreds of items that they offer for dining, bedroom, bath, living room and home office.
All McKinnon Furniture is made just south of downtown Seattle in their 23,600 square foot manufacturing facility. They use only sustainable, select hardwoods that are precision crafted before going through seven hand-sanding steps and a hand-oiled finish. McKinnon combines precision technology with old-world techniques including mortise and tenon joinery, and dovetailed corners for furniture that will last generations.
As the 25th Anniversary for the business arrives, founders Sheila McKinnon and Theresa Schneider have announced that Gary Strand and his wife Susan have purchased the company, and will be continuing the McKinnon legacy of fine craftsmanship and customer service.
After a successful 30-year career in banking, Mr. Strand, 48, retired from the executive ranks at Bank of America where he spent much of his career in roles and leading teams that served business owners in the Northwest. Since then he has been searching for the right opportunity to own a local company that manufactured a product which had exceptional quality, a great reputation with its clients, and growth opportunity.
Gary said "Trust me when I say I have worked with a lot of business owners and there are few who I have come to admire more than Sheila and Theresa, who have built and sustained something special that I look forward to continuing. Your home is a special place and deserves the best there is to offer from the experts in their craft at McKinnon."
Theresa Schneider added "We are so grateful for the talented and loyal people who have worked for us over the years. We have a great group of passionate and dedicated workers who are committed to helping a new owner continue our adventure and take it to new heights. And we also know that our success has been due to the many wonderful customers who have supported us over these years."
Sheila McKinnon said "It has been an amazing 25 years and a tremendously rewarding journey. And now as we pass the torch to new friends, we wish them the very best and hope that they will experience the wonderful support and friendship that we were fortunate to enjoy."
The sale of the company was handled by Andrew Cross of Cross Northwest, a Seattle-based mergers and acquisitions advisory service that works with small to mid-size companies with revenues from $1 to $75 million in a broad range of industries.
McKinnon's 25th Anniversary Sale from May 16 to May 25 will be a celebration of the company's success and a welcoming of the new owners. Co-owners McKinnon and Schneider will work closely with the Strands over the coming months during the transition. The goal is to continue the high quality standards that McKinnon Furniture customers have come to enjoy, both in furniture designs and the custom woodwork that McKinnon has provided to the local community and the nationwide clients they continue to serve.
COMPANY INFORMATION: McKinnon Furniture has been making handcrafted wood furniture since 1989. They use traditional methods and environmentally sustainable hardwoods. From their Seattle wood shop and downtown retail store, they offer a full line of home furnishings for a loyal Northwest following. McKinnon also ships throughout the U.S. and can create custom pieces.