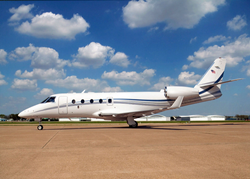 San Jose, Calif. (PRWEB) April 29, 2014
TWC Aviation, a worldwide leader in private jet charter, aircraft management, and sales, today announced the addition of an eight-passenger Gulfstream G150 to the company's diverse and growing private jet fleet. Based at Oakland International Airport, this aircraft is the third Gulfstream jet to join the TWC fleet in the past three months. With an exemplary record of safety and service and more than 50 aircraft throughout the U.S and beyond, TWC is the number one choice for discriminating jet charter and aircraft management customers.
Onboard this beautiful, gleaming white G150, passengers will enjoy a spacious interior with forward-facing executive chair, two-place divan, and aft four-place club seating, upholstered in glove-soft Castle Sand leather. Accents include exotic Gaboon wood veneers and Champagne Gold satin plating. There are numerous luxury amenities, such as an Iridium Satcom flight phone, DVD entertainment system, Dual XM Radio, RosenView passenger briefing system, and microwave oven, This G150 is ideal for luxury journeys to Hawaii or most anywhere in North America.
About TWC Aviation, Inc.
TWC Aviation, Inc. offers a full array of private jet charter, aircraft management, sales and acquisitions, and maintenance services to clients worldwide. Aircraft operate under FAA Air Carrier Certificate BZUA138N. The company is audited by IS-BAO, Wyvern, and ARGUS, and maintains an FAR Part 145 Repair Station. More information is online at http://www.twcaviation.com.