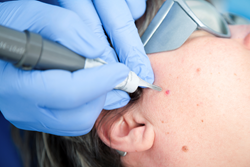 Advancements in the field make treatments safer and more effective.
Rolling Meadows, IL (PRWEB) April 28, 2014
Lasers can be used to treat a wide variety of cosmetic skin conditions, including erasing fine lines and wrinkles, and removal of age spots, surgical and traumatic-injury scars, acne scars, tattoos and birthmarks.
And patients are responding, according to recent survey results from the American Society for Dermatologic Surgery, which showed a 34 percent increase in such procedures in 2013 over 2012. New technologies using lasers, light and energy to treat cosmetic skin conditions make the procedures safer and more effective, say ASDS member dermatologists.
Members completed 2.25 million such treatments in the category as a whole last year, compared to 1.68 million in 2012.
"Not only have treatments become much more effective, but they also have become safer, so patients typically are experiencing less downtime," said ASDS President-Elect George Hruza, M.D., who practices in suburban St. Louis. A more robust economy also plays a part, he said.
ASDS member dermatologists use laser, light and energy devices and technologies to treat a wide variety of conditions. Treatments for facial redness, the result of rosacea and other causes, topped the list at 454,000 procedures in 2013. An intense, gentle beam of light is used to remove the redness without damage to surrounding tissue.
The devices also are used to remove age spots, surgical and traumatic-injury scars, acne scars, tattoos and birthmarks; tighten tissue; reduce wrinkles; and smooth skin. The devices also can be used in skin cancer treatments.
Several procedures saw increases of more than 50 percent, according to the survey:

Birthmark removal, up nearly 90 percent.
Laser facial resurfacing to erase fine lines and wrinkles, smooth and tighten eyelid skin, improve crow's feet around the eyes and improve skin tone and texture, up 85 percent.
Surgical and traumatic-injury scar treatment and removal, up 79 percent.
Tissue tightening, up 75 percent.
Tattoo removal, up 52 percent.
Hruza attributes much of these increases to advancements in the field that make treatments safer and more effective. To remove scars, for example, new fractionated lasers that affect only a portion of the skin are being combined with medicines applied directly on the treated area, resulting in much smoother skin. Innovative lasers with very short pulses of light, combined with new protocols, are speeding tattoo removal treatments. "Efficacy is way up," Hruza said.
ASDS member dermatologists also are using micro-focused ultrasound therapy to tighten skin more effectively. " It is an excellent addition to dermatologic surgeons' treatment armamentarium for skin tightening," Hruza said, speaking of the equipment, methods and techniques physicians use.
Other new products have refined laser resurfacing techniques to reduce wrinkles and lines and improve the appearance of aging or sun-damaged skin.
Certain older lasers treat an entire area of the face, removing the top layer of skin to reveal newer, more youthful cells and promote collagen production. Newer fractionated lasers limit treatment to a fraction of the skin. This permits rapid repair of the skin's outer layer, followed by changes in the skin's collagen. "The results are very good, and the recovery is much faster," Hruza said.
A growing awareness of the technology and a recovering economy have helped boost the number of some laser, light and energy-based procedures, Hruza said. "Patients may have been waiting to see a dermatologist about that facial redness or removing unwanted hair," he said. "Now many are more informed, plus they have more economic freedom to act on their desire to improve their appearance."
Hruza stressed that patients should be mindful of their provider's knowledge base and level of training. "ASDS member dermatologists are the experts when it comes to treating the health and beauty of the skin," he said.
"Yes, lasers are safer than ever. But they're safer in the right hands. Treatment techniques, devices and settings vary widely," he said. "We're trained in the use of these devices. We are at the forefront of laser treatment development, and we are the experts."
About ASDS
The American Society for Dermatologic Surgery (ASDS) is the largest specialty organization exclusively representing dermatologic surgeons who have unique training and experience to treat the health, function and beauty of your skin. ASDS members are pioneers in the field. Many are involved in the clinical studies that bring popular treatments to revitalize skin and fill and diminish wrinkles to the forefront. Their work has helped create and enhance many of the devices that remove blemishes, hair and fat, and tighten skin. Dermatologic surgeons also are experts in skin cancer prevention, detection and treatment. As the incidence of skin cancer rises, dermatologic surgeons are committed to taking steps to minimize the life-threatening effects of this disease. For more information, visit http://www.asds.net.
Follow us:
Website: http://www.asds.net
Follow ASDS on Twitter: http://www.twitter.com/ASDSSkinExperts
Become a fan of ASDS on Facebook: https://www.facebook.com/ASDSSkinExperts
Locate a dermatologic surgeon in your area: http://www.asds.net/findadermatologist.aspx
Contact:
Beth Bales
Communications Manager
American Society for Dermatologic Surgery
bbales(at)asds(dot)net
847-956-9143