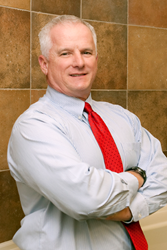 Texas City, TX (PRWEB) April 25, 2014
Dr. Stephen C. Hale offers an alternative to traditional dental crowns in Texas City, TX with the CEREC procedure, all-ceramic tooth restorations that look and feel like natural teeth. CEREC creates perfectly fitted ceramic tooth restorations from 3D models without the need for messy impression trays, temporary crowns, or return visits.
Many tooth repair procedures involve filling cavities and restoring teeth with gold, a metal amalgam, or composite resin. While the amalgam is controversial due to the inclusion of mercury and the possibility that it may weaken the tooth or need replacement, it has been one of the most popular choices of dentists because of its strength and affordability. Gold is not subtle, but it is durable and more attractive than the gray color of the amalgam. The main issue with gold is the expense. Composite resins are a more subtle choice, but are even less likely to last than the amalgam. Ceramic fillings are much more durable than the amalgams and resins, more economical than gold, and more stain resistant than composite resin. The CEREC procedure in Texas City, TX uses only ceramic materials for dental crowns and other tooth restoration needs.
CEREC is an acronym for the words Chairside, Economical, Restorations, Esthetic, and Ceramic. These words describe the primary features of the procedure. The tooth restoration begins as normal, with the preparation of the damaged tooth. With CEREC, rather than creating an impression with a messy tray, the dentist takes a picture and uses software to produce a 3D model. He chooses a block of ceramic in the color most like the original tooth, and then sends the 3D model wirelessly to the milling machine. This machine creates the tooth restoration from the ceramic block in 10 to 20 minutes. Patients in Texas City, TX who need fillings, dental crowns, and other tooth restorations may have expected multiple visits to replace a crown or a filling in the past, but this procedure requires only one relatively short visit to restore a tooth to full functionality and beauty.
More than 1.2 billion amalgam and resin tooth restorations will need replacement in the next decade due to weakening, decay, and wear. Anyone who is interested in durable, natural looking ceramic tooth repair can find more information about CEREC on Dr. Hale's website.
About the Doctor:
Stephen C. Hale is a general dentist offering personalized dental care for patients in Texas City, TX for over 26 years. Dr. Hale received B.S. degree in biology from Stephen F. Austin College and his D.D.S. degree from the University of Texas Dental Branch at Houston. He continues his education today and is a member of professional dental associations. Dr. Hale is part of one percent of dental professionals providing the LANAP® FDA cleared laser procedure for gum disease and periodontal treatment. To learn more about Dr. Hale and his dental services visit his website at http://www.stephenhaledds.com and call (409) 229-4184.