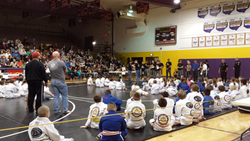 We want them to know that they can speak up, and that we are here to help if they encounter bullying.
Columbus, OH (PRWEB) April 28, 2014
One of the most popular forms of martial arts once again rolled into central Ohio, as hundreds of Brazilian Jiu-jitsu youth, parents and supporters packed Lexington High School for The Ohio KidJitsu Tournament on Saturday morning. Hosted by Team Chitwood Martial Arts & Fitness, the popular tournament encourages healthy competition in a kid-friendly format for school-aged kids.
"This year we emphasized anti-bullying at our tournament – something that our regular classroom instruction is based upon," explained Shawn Chitwood, President of Team Chitwood Martial Arts & Fitness. All of the youth competitors took a pledge to treat others with respect, and to stand up against bullying. "It really is the center of our kids martial arts class instruction and we were proud to have our good friend, Chief Ken Coontz, help us present this important anti-bullying message to kick-off the tournament," said Chitwood.
Mansfield Chief of Police, Ken Coontz, is a Team Chitwood black belt and knows just how valuable this message is for our youth. He addressed the crowd at the start of the tournament to emphasize the importance of instilling confidence in our children, and to encourage students to speak out against bullying. Also in attendance was Sgt. Neuenschwander from Lexington's Police Department.
"All of the school resource officers throughout Richland County invest a lot of time to stay connected with kids in our schools," said Coontz. "We want them to know that they can speak up, and that we are here to help if they encounter bullying." Statistics show that confident kids are less likely to bully others or to be victims of bullying, and that speaking out against verbal bullying can help avoid physical bully attacks.
Widely touted as the best method for physical bully defense, jiu-jitsu does not involve any punching, kicking, or striking. Instead the children learn to apply techniques based on leverage to gain dominant positioning and control over the situation. They are taught to use jiu-jitsu until they can get away safely or until help arrives.
"Team Chitwood kids learn and are tested in this anti-bullying curriculum, so now we are sharing this message with the other students who participate in our tournament," said Chitwood.
About The Ohio KidJitsu Tournament: Jiu-jitsu schools from all over central Ohio and surrounding states bring teams of new and experienced grapplers. The tournament guarantees four matches to each child, and provides a fun and safe atmosphere for them to test their skills, practice their sportsmanship, and gain confidence in their abilities. Registration begins at 8:30 am, with competition beginning at 10:00 am. http://www.kidjitsutournament.com
About Team Chitwood Martial Arts & Fitness: With more than 20 years of helping students reach their full potential, the three Chitwood brothers (Shawn, Neil and Craig) operate two academies in central Ohio and are known nationally as top-notch jiu-jitsu practitioners and instructors. They also offer specialized training to schools, law enforcement, and other organizations. http://www.teamchitwood.com