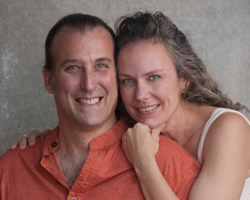 "Gifted teachers and writers, Mark Michaels and Patricia Johnson challenge conventional wisdom and offer bold, fresh strategies for real connection and intimacy in long-term relationships."—Tristan Taormino, author, Opening Up
(PRWEB) April 28, 2014
Mark A. Michaels and Patricia Johnson were featured as relationship experts on a Fox News DC segment exploring open relationships. As authors of Partners in Passion (Cleis Press 2014), Michaels and Johnson comment that "trust is built over time, and with trust comes goodwill," and that trust is the key to any relationship, whether monogamous or open.
The segment focuses on whether or not open relationships can really work, and samples opinions from people on the street. Their opinions and experiences range from thinking openness is a mistake, to a woman who is in a successful open relationship herself. Michaels and Johnson then provide an expert view of the subject, explaining how many couples simply become monogamous by default, rather than because they truly want to be. For any relationship to work, communication must be open, honest, and frequent.
Partners in Passion (also available in audio)
Partners in Passion questions conventional wisdom about what constitutes a good relationship. Michaels and Johnson propose an alternative model founded on mutuality, a collaborative mindset, empathy, and transparency. This approach invites couples to design their own relationships and to choose consciously. It is replete with how-to suggestions and exercises, fortified by interviews with couples from diverse backgrounds, relationship styles, and orientations who are enjoying erotically vibrant partnerships. It includes an extensive resource guide that covers everything from health to erotica to alternative relationship styles, with links to many of today's leading sexuality and relationship educators. Michaels and Johson's Partners in Passion will help couples have incredible sex and develop deep connections that will last a lifetime.
5/19 - Namaste Bookshop - New York, NY
6/23 7-9pm - Shining Lotus - Denver, CO
7/17 7-9pm - Bluestockings - New York, NY
10/16 6:30pm - Banyan Books and Sound - Vancouver, BC Canada
A graduate of NYU and Yale, Mark A Michaels writes for scholarly and legal publications and his plays have been produced off-Broadway. He took his first Tantra class in 1997 and gave his first lecture on the subject two years later.
Patricia Johnson spent many years as a professional operatic soprano. In 1999, a longstanding interest in Tantra inspired her to attend a lecture by Mark Michaels, now her husband and collaborator. Since then, she and Michaels have taught and lectured throughout the world. They live in New York City.