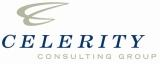 We appreciate the investment Celerity is making in furthering their technical credentials
San Francisco, CA (PRWEB) April 29, 2014
Celerity Consulting Group ("Celerity") announced that they have attained several HP Autonomy product certifications, including the WorkSite Certified System Engineer and WorkSite Records Manager Engineer credentials. These certifications enable Celerity to more effectively assist HP Autonomy clients with Legal Information Management initiatives that leverage HP Worksite, HP Worksite Records Manager, and HP Universal Search for Legal initiatives.
Celerity, an information governance firm, has been helping law firms and corporations surmount information management challenges in the arenas of risk and compliance, litigation, restructuring, and technology deployment for over a decade. Their breadth and depth of domain and technical expertise has helped numerous companies successfully deploy HP Autonomy solutions.
HP Autonomy provides comprehensive enterprise content management (ECM) solutions to 80% of the AM Law 100 and over 500 corporate legal departments enabling lawyers to more effectively manage matter-related documents inside the company and with external counsel. HP WorkSite, a cornerstone of HP's Legal Information Management offering, is an advanced document and email management system that enables legal teams to work together on a single set of documents, available from any access point, including desktops and laptops, the Internet, and mobile devices. HP WorkSite promotes matter-centric collaboration, improves productivity, and enhances customer service by making all project documents easy to access and secure.
"Our aim is to be the best at helping companies successfully deploy all HP Autonomy enterprise content management products," said Dr. Bruce Hartley, Celerity's Vice President of Technical Services. "This credential is another firm step in that direction, and builds upon our excellent track record to-date."
"We appreciate the investment Celerity is making in furthering their technical credentials," said Sandeep Joshi, Director, Global Channels & Alliances at HP Autonomy, "This commitment enabling their people will go a long way to further enhance our partnership and ensure our customers quickly generate ROI with HP Autonomy Enterprise Content Management solutions."
Celerity has been an HP Autonomy Business Partner since October 2013 and has recently been designated as a Silver HP Autonomy Partner.
For more information on HP Autonomy Enterprise Content Management solutions, please visit http://www.autonomy.com/offerings/enterprise-content-management/. For more information on Worksite, please visit http://www.autonomy.com/products/worksite.
About Celerity Consulting Group
Celerity Consulting Group is an information governance consulting firm that helps companies, law firms, regulated entities, and public agencies resolve their risk and compliance, technology deployment, litigation, and restructuring challenges. Our specific services include litigation readiness; records management; records collection, review, and validation; eDiscovery; litigation support; document hosting; enterprise content management and litigation technology integration; data analysis; and engineering support. Celerity clients include Fortune 500 firms and 15 of the AmLaw 2013 top 25 law firms. Find more information about Celerity at http://www.consultcelerity.com or contact Steffani Aranas at info(at)consultcelerity(dot)com or (415) 986-8850.
About HP Autonomy
HP Autonomy is a global leader in software that processes human information, or unstructured data, including social media, email, video, audio, text, and web pages, etc. HP Autonomy's powerful management and analytic tools for structured information together with its ability to extract meaning in real time from all forms of information, regardless of format, is a powerful tool for companies seeking to get the most out of their data. HP Autonomy's product portfolio helps power companies through enterprise search analytics, business process management and OEM operations. HP Autonomy also offers information governance solutions in areas such as eDiscovery, content management, and compliance, as well as marketing solutions that help companies grow revenue, such as web content management, online marketing optimization, and rich media management.