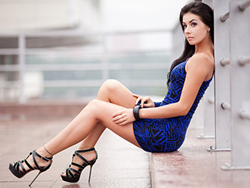 GL Fashion - Glam Trends in Style
(PRWEB) April 26, 2014
The brand new spring and summer wear range includes cute summer dresses in a mix of bold or subtle colors, abstract prints and a range of styles; other new additions include a comprehensive range of crop tops, vest tops, light jackets, short sleeve T-shirts and blouses that are all perfect for the warmer weather, a range of skinny pants, leggings and skirts for keeping cool this summer time, and a range of accessories to complement the GLFashion.com clothing range.
With a huge mix of colours, patterns, and styles, the customer will be spoiled for choice when it comes to choosing spring and summer fashion wear. All of the items sold by GLFashion are of the highest quality and offer value for money. The stylish range of clothing and accessories are ideal for day time or night time wear and the styles offered by GLFashion offer versatility, allowing the shopper to create a stylish wardrobe for any season at an affordable price.
GLFashion.com is aware that fashion trends are quick to change, which is why the website is always stocked with the current styles and latest fashions.
Orders can be paid for via the secure website by using PayPal or credit card. GLFashion.com offers free shipping to customers within the United States while a flat rate of $10 is charged for international orders.
As part of its commitment to providing a high standard of customer service, GLFashion.com offers a return and refund policy should a consumer not be happy with a purchase.
To view the latest fashions, to create an account or to purchase, visit: http://www.glfashion.com/.
About:
GLFashion.com offers a range of stylish on-trend clothing that offers the consumer both quality and affordability. With the value for money clothing offered by GLFashion.com, every woman can ensure that their wardrobe is always current and up to date with the latest fashion trends.
The range from GLFashion.com offers clothing for every occasion. From nightwear to daywear, for work or for play, GLFashion.com has something for the fashion conscious shopper.