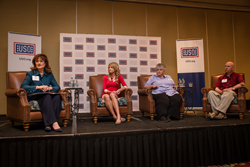 A conference like this is important because it gives caregivers the tools and resources they need to build and strengthen their own resiliency. - USO President and CEO John I. Pray Jr.
Colorado Springs, Colo (PRWEB) April 25, 2014
More than 80 caregivers - which included military spouses, family members, loved ones and hospital staff - came together today to heal, bond and recharge while discovering innovative ways for coping with the everyday obstacles of caregiving at the bi-annual USO Caregivers Conference in Colorado Springs, Colo. It is estimated that some 5.5 million Americans are caring for wounded, ill or injured troops as well as veterans, including 1.1 million who are caring for someone who served after 9/11.
A recent RAND study, commissioned by the Elizabeth Dole Foundation to assess the needs of military caregivers, found that a majority of caregivers tend to be younger spouses with dependent children, who in addition to providing care for their wounded, ill or injured service member, also shoulder the responsibility of raising children and being the primary source of income for the household. Additionally, the study found that a majority of caregivers neglect their own care to focus primarily on the needs of their recovering warrior.
"The family members and medical professionals who serve as caregivers for our wounded troops are absolutely vital to the recovery process," said USAF Brigadier General (Ret.) John I. Pray Jr., USO President and CEO. "These amazing individuals give so much of themselves to lift the spirits of their loved ones. A conference like this is important because it gives caregivers the tools and resources they need to build and strengthen their own resiliency. It lets them know that they are not alone, that America supports them and that taking a moment for themselves is the right thing to do."
At the USO's daylong conference, military caregivers participated in intimate sessions that tackled difficult subjects such as couple's intimacy, addressing challenging behaviors, breaking the communication barrier and preventing burnout, among other important topics. Nationally recognized caregiver organizations such as Easter Seals, Project Rebirth and Stronger Families presented during the breakout sessions and offered tools, tips and resources for managing the day-to-day stresses of caregiving.
Motivational presentations were made by game on Nation, a leading communications firm that works with some of today's top athletes on topics such as leadership, character development and moving towards positive change. game on Nation's Chris Friday talked to caregivers about the importance of laughter and finding innovative ways to communicate. Additionally, author Trevor Romain discussed the importance of taking care of self and finding inspiration through challenging experiences – Romain shared stories of his charitable work with terminally ill children, orphanages in Africa as well as his work with military children and how those experiences have inspired him to overcome difficult times in his own life.
"Partnering with the USO provides an amazing opportunity to impact people who need our help, who need to be fueled and who are often forgotten," said Chris Friday, Senior Communication Consultant at game on Nation, LLC. "We want to give military caregivers the tools necessary to approach challenging situations with laughter, and sometimes even with a sense of mystery."
The daylong conference wrapped up with a panel discussion on the caregiver's journey and how to utilize past and present experiences to build towards a stronger future. Elizabeth Dole Foundation Fellow Lindi Harvey moderated the discussion and panelists included KTTV reporter Kristin Haubrich, military mom and caregiver Tammy Davis as well as Elizabeth Dole Foundation Fellow Justin Larsen. Larsen served overseas in the U.S. military and provides support to his wife who was injured while on deployment to Afghanistan. Haubrich suffered a traumatic brain injury when a car hit her, her parents took on the role of caregiver during her recovery phase. Each panelist brought a unique perspective to what it means to assume the role of caregiver as well as what it means to be cared for.
Lt. Gen. Edward Soriano, Army (Ret.), who previously served as the Chair of the Military Affairs Council of the Greater Colorado Springs Chamber of Commerce thanked attendees for recognizing the need to find support and encouraged them to lean on their fellow caregivers for support.
"It's important to meet each other, get to know each other, establish friendship and a network you can go to," said Soriano in his closing remarks. "The caregiver network is mighty important because we just can't do it by ourselves."
To find out more about the USO Warrior and Family Care Program visit us online at http://www.uso.org. A complete list of 2014 Warrior and Family Care Programs and services can be found online at http://www.uso.org/warriorandfamilycare/. Click here to view photos from the event.
About the USO
The USO lifts the spirits of America's troops and their families millions of times each year at hundreds of places worldwide. We provide a touch of home through centers at airports and military bases in the U.S. and abroad, top quality entertainment and innovative programs and services. We also provide critical support to those who need us most, including forward-deployed troops, military families, wounded warriors, troops in transition and families of the fallen. The USO is a private, non-profit organization, not a government agency. Our programs and services are made possible by the American people, support of our corporate partners and the dedication of our volunteers and staff.
In addition to individual donors and corporate sponsors, the USO is supported by President's Circle Partners: American Airlines, AT&T, BNSF Railway, The Coca-Cola Company, Grand Canyon University, JCPenney, Jeep, Johnson & Johnson, Kroger, Northrop Grumman Corporation and TriWest Healthcare Alliance and Worldwide Strategic Partners: BAE Systems, BIC, The Boeing Company, ConAgra Foods, FedEx, Lockheed Martin, Microsoft Corporation, Procter & Gamble, TKS Telepost Kabel-Service Kaiserslautern GmbH & Co. KG and Wawa Inc. We are also supported through the United Way and Combined Federal Campaign (CFC-11381). To join us in this patriotic mission, and to learn more about the USO, please visit uso.org.