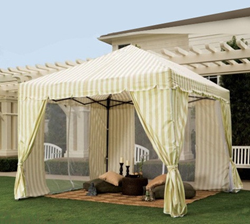 (PRWEB) May 01, 2014
The Canopy Warehouse is an online store stocking a wide range of pop-up canopies, carports, and storage canopies. It has recently been announced that the company's website has undergone an upgrade to offer better navigation to its users, as well as functioning more effectively when it comes to calculating shipping costs.
With the new site featuring an improved visual design, as well as enhanced functionality, it is hoped that the online store will be more attractive to those shopping online for an outdoor structure, such as a garden canopy, or portable garage.
As this online canopy store sells these products online, with the customers able to have a tent or shelter of their choice delivered right to their door, the ability to provide accurate shipping costs is a feature that is hoped will be of real value to potential customers who are ready to make a purchase online. "On the previous version of our site, the mechanisms in place for estimating shipping costs for our products were less than satisfactory" the store manager explained. "As these products can be quite heavy, now that we can give more accurate shipping costs via the website, our customers can make a more informed decision regarding what items they want to purchase" he continued.
The new shipping cost calculator feature, which can be seen at http://canopywarehouse.com/ allows customers to add an item to their shopping cart, and then enter their state, followed by their Zip code. Once that information has been submitted, the online store of the Canopy Warehouse will provide the customer with a cost for shipping, which will be added to the total amount due.
To accompany the redesign of the website, the store owners were also able to add some new items to their inventory. Amongst the new additions to the store was an increase in the number of carports and portable garage canopies, as well as a number of new greenhouse canopies. The new items in the portable garage range include products in a selection of sizes that offer protection to many different types of vehicles ranging from motorcycles, cars and even boats.
While traditional garden party canopies are the most popular products in stock at the Canopy Warehouse, the store owners have reported that the pop-up canopies they stock are also growing in popularity. "These pop-up canopies really appeal to occasional users who want the option of putting something up in their outdoor space that can provide a good level of shelter on a more temporary basis" the store manager revealed. "The pop-up tents we've been selling a lot of lately seem to appeal to customers due to their ability to reduce the outside temperature by up to 20 degrees when one is standing under one of these canopies, while only taking a few minutes to set up" he went on to share.
With a new shopping cart that can more accurately calculate shipping costs based on delivery location as well as product size and weight, in addition to the new items now available at the store, the Canopy Warehouse looks set to enjoy a profitable second quarter and beyond in the competitive outdoor structures marketplace.