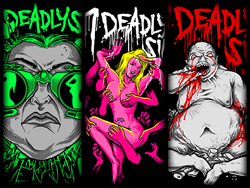 Be Free to Be You
(PRWEB) April 27, 2014
How can fashion add to our lives? Unrestricted Swag Clothing can answer that question. Unrestricted Swag is a clothing brand that was created for those who seek experiences as well as the collectors. Unrestricted swag is run by 2 sisters who believe that most aspects of life should be fun and they have adopted the slogan "Unrestrict Your Swag", which means Be Free to Be You. They believe it's time for the soccer mom to get on the skateboard like she always wanted to and for the Walking Dead fan to have their zombie fighting kits to train with.
The clothing brand has many different types of lines and each line runs limited packages of only 50 sets. They plan to produce lines such as G3 (which stands for guns, gas mask, and grenades). Their upcoming edition of G3 will be the Survival Series, and its package will include basic survival essentials such as a flashlight, flint, pocket knife and paracord along with a cool shirt, scarf, backpack, a survival guide, a challenge and much more. You can collect the kits or you can actually put the products to use. Unrestricted Swag sets out to create a custom experience for their buyers. One or all products added to the set will allow buyers to create an experience. Most packages will also come with a guide to help the newbies along their way. Future lines will include Zombie Apocalypse, Geek'd Up, Rich College Kids, Series IX and more. Currently Unrestricted Swag is raising money to pay for production cost using the crowdfunding site Kickstarter.
About Kickstarter
Kickstarter is a crowd funding platform used by individuals, inventors and project creators. Backers can pledge from as little as $1 or more and have the option of many different rewards. Unrestricted Swag will offer t-shirts and other products, which will be delivered to the backers if the campaign is fully funded. Funding on Kickstarter is all-or-nothing if the funding goal isn't met by the deadline the project will not receive any money. If the project is successfully funded the pledges will be withdrawn and the rewards will be delivered on the timeline given by the campaign. Backing a project is supporting someone's dream or idea and helping them bring it to life.
The Campaign
Unrestricted Swag Clothing hopes you will join them in bringing this new fun creative concept to life. For their Kickstarter project they are bringing out their 7 Deadly Sins line. For rewards they are offering single shirts along with different packages ranging from 2 to 7 shirts, and the ultimate pack, which will include 8 shirts and a multitude of unbelievable extras. The campaign will last 35 days and during these days you can visit their Facebook page for weekly contests and activities.
Check out there Kickstarter at https://www.kickstarter.com/projects/2079787088/unrestricted-swag-limited-edition-experience-packa.
About Unrestricted Swag
Unrestricted Swag is a clothing company that offers experiences by offering clothes and items as a package. This in turn makes each t-shirt a unique experience, and not just another clothing purchase. For more information, visit Unrestricted Swag's online home, or follow the company on Facebook and Twitter.
Website: http://www.unrestrictedswag.com
Facebook: https://www.facebook.com/unrestrictedswag
Twitter: https://twitter.com/unrswag
Kickstarter:https://www.kickstarter.com/projects/2079787088/unrestricted-swag-limited-edition-experience-packa