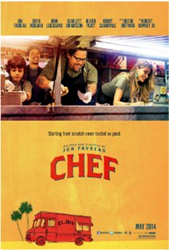 Park City, UT (PRWEB) April 26, 2014
Android TV News: Chef Movie Trailer
A chef who loses his restaurant job starts up a food truck in an effort to reclaim his creative promise, while piecing back together his estranged family.
Chef Carl Casper suddenly quits his job at a prominent Los Angeles restaurant; after refusing to compromise his creative integrity for its controlling owner, he is left to figure out what's next. Finding himself in Miami, he teams up with his ex-wife, his friend, and his son to launch a food truck. Taking to the road, Chef Carl goes back to his roots to reignite his passion for the kitchen — and zest for life and love.
Release date: May 9, 2014 (USA)
Director and writer: Jon Favreau
Stars: Jon Favreau, Robert Downey Jr., Scarlett Johansson
Running time: 115 minutes
Screenplay: Jon Favreau
Producers: Karen Gilchrist, Jon Favreau, Sergei Bespalov
ANDROID TV™ covers red carpet, award shows, movie premieres, and original productions. ANDROID TV™ will have exclusive sit down interviews with the biggest celebrities.
"We are excited to continue our mission that started in 2006- of distributing red carpet & exclusive interviews, entertainment news, independent film making, TV and movie content," says Fernando Escovar Creative Director for ANDROID TV™ products and services.
Exo Level and the ANDROID TV™ development team have created a cult following. Consumers are willing and eager to pay nearly double the price of competing devices like Apple TV and Roku for a better performing EXOON TV set top box.
Consumers and developers alike love the quad core processor, upgraded chipset, and custom ROM that comes fully rooted which allows users super privileges to fully customize their EXOON set top box with 3rd party add-ons.
"The technology we have developed is changing the way consumers communicate with their TV and devices overall," says Jason Labossiere President of Exo Level.
Exoon Power Pro includes channels like movies and television, music-only channels featuring all of the latest hits, news channel support from providers like Fox News and SkyNews, Latino-oriented content, family content, and more. Exoon Power Pro also supports many existing services that you may already subscribe to like Netflix, Hulu, Vudu, Pandora, and other popular services through the set top box, allowing you to seamlessly integrate the service into your existing home theater configuration.
Exo Level will be running an extensive advertising campaign to attract new customers to the already stable and increasingly popular user base. Dubbed the "We Love TV" campaign, it is designed to showcase what makes the ANDROIDTV.com so attractive to consumers with a wide variety of different tastes and interests.