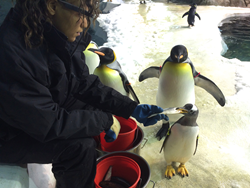 Working with Engage Mobile has allowed us to bring the experience of direct interaction with the penguins to animal lovers around the world."
Kansas City, Mo (PRWEB) April 30, 2014
Engage Mobile Solutions, the award-winning mobile strategy, development and marketing firm, and the Kansas City Zoo today released a behind-the-scenes look at the world of penguins. The video captures a first-person perspective of the life of a penguin keeper using Google Glass, the newest wearable mobile technology from Google Inc., Mountain View, Calif. The video features the Kansas City Zoo's Helzberg Penguin Plaza's loveable Southern Rockhopper penguins, King penguins and Gentoo penguins interacting with the keepers at the world-class exhibit that opened in October 2013.
Watch Video:
Engage Mobile and KC Zoo - Behind-the-Scenes View of the Helzberg Penguin Plaza with Google Glass
Engage Mobile solutions outfitted two penguin keepers at the Kansas City Zoo with pairs of Google Glass, which recorded first-hand experiences of how the playful characters interact. Both penguin lovers and technology fans alike will enjoy the never-before-seen view into the world of caring for these flightless creatures. The footage delves into the details of prepping the penguins' food and showcases how routine events like feeding time come to life. It also highlights how the birds interact with zoo visitors.
"We are always looking for ways to provide fans of the zoo more interaction with the animals," says Randy Wisthoff, Executive Director / CEO of the Kansas City Zoo. "Working with Engage Mobile has allowed us to bring the experience of direct interaction with the penguins to animal lovers around the world."
Matthew Barksdale, president of Engage Mobile Solutions, said he was excited to work with the Kansas City Zoo and the penguins with Google Glass.
"There are some professions that are fascinating," Barksdale says. "Wearable technology and Google Glass allow us to provide the exact view of what the penguin keepers see while caring for the birds. We can't feed them, but we can live the life of a penguin keeper vicariously with the latest wearable mobile technology."
Google Glass is a wearable computer with an optical head-mounted display that has been developed by Google in the Project Glass research and development phases. Google Glass displays information in a smartphone-like, hands-free format. This innovative new technology allows users to interact with the Internet via natural language voice commands to perform tasks like navigation, accessing the Internet, texting, taking pictures and shooting videos.
Google Glass is an experimental product and will not be made available to the general public until later in 2014. Engage Mobile is working with Google to develop software and explore unique applications of Glass, such as this Kansas City Zoo project, which highlights Glass' unique ability to record and share high-definition video.
About the Kansas City Zoo
Kansas City Zoo is home to more than 1,100 animals and located in the heart beautiful Swope Park. At 202 acres Kansas City Zoo offers a new adventure with each visit. Helzberg Penguin Plaza opened in 2013 and has become a destination exhibit for visitors year round. Helzberg Penguin Plaza holds more than 100,000 gallons of chilly salt water and is home to 4 species of penguins.
The Kansas City Zoo was honored in "America's Best Zoos 2008" as one of the top 60 zoos in the United Sates and was ranked No. 1 in the nation for "African Animals and Exhibits." and ranked in the top 10 in the nation for "Australian Animals and Exhibits" and for "Pachyderms: Elephants, Rhinos, Hippos." In addition, famed ape expert Jane Goodall complimented that Kansas City has "one of the finest chimpanzee exhibits in North America." In fact, "America's Best Zoos 2008" ranked the Kansas City Zoo as the No. 1 zoo in the nation to see both chimpanzees and kangaroos.
Kansas City Zoo is open 9:30 a.m. – 4 p.m. weekdays; 9:30 a.m. – 5 p.m. weekends.
Call (816)595-1234, or visit our web site http://www.kansascityzoo.org for more information.
The Kansas City Zoo, a private, non-profit organization, is operated in agreement with the Kansas City, MO Board of Parks and Recreation Commissioners, partially funded by the Zoological District and is accredited by the Association of Zoos and Aquariums.
About Engage Mobile Solutions
Engage Mobile Solutions is an award-winning mobile app and mobile software development company with a focus on mobile strategy and mobile marketing. Based in Kansas City, Mo., the company helps businesses leverage mobile technology and marketing to drive profitability through increasing revenue, decreasing costs and managing risk. For more information about Engage Mobile Solutions, visit http://www.engagemobile.com or contact Matthew Barksdale at mbarksdale(at)engagemobile(dot)com.